Obsessed With Plastic Surgery! 10 Celebrities Who Can't Stop Going Under The Knife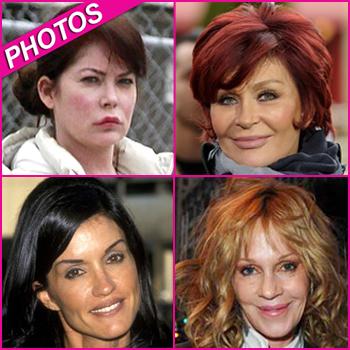 They are gonna have to face it, they are addicted to plastic surgery!
While some Hollywood stars go in for a little nip-and-tuck to fix their problem spots, these public figures have taken plastic surgery to the extreme, and can't stop getting work done. From reality and movie stars to royals, RadarOnline.com has photos of 10 stars who are obsessed with plastic surgery.
Mob Wives matriarch Angela 'Big Ang' Raiola has admitted that she is "obsessed" with plastic surgery, getting everything including her lips and boobs done more than once.
Article continues below advertisement
The Duchess of Alba has a thing for younger men, so it isn't shocking that she has relied on plastic surgery to keep her looking youthful! The 86-year-old, who married a man 24 years her junior in 2011, has transformed her looks to the max!
Joan Rivers has always been frank about everything – including her obsession with plastic surgery. The Fashion Police host claims she's had over 700 procedures done over the years, and doesn't seem to be slowing down.
Superstar country singer Dolly Parton is legendary for her angelic voice and her plastic surgery — and proud of them both.
And Melanie Griffith has been in the public eye for several decades, but the big screen bombshell looks nothing like her younger self due to multiple rumored plastic surgery procedures.
What other stars are addicted to plastic surgery? Find out by clicking here.