And The Oscar Goes To… The Big Winners At The 2013 Academy Awards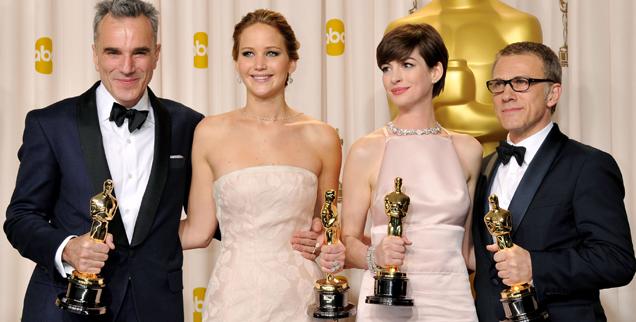 Argo took home the best picture award as parity was the theme at Sunday's Academy Awards from Los Angeles, as Ben Affleck's masterpiece captured three awards, sharing the limelight with Life of Pi (four) Les Miserables (three), Django Unchained (two) and Skyfall (two), which all received prestigious honors on the evening.
In addition to the top prize -- which First Lady Michelle Obama announced in a surprise cameo -- Affleck's film also captured the honors for adapted screenplay (Chris Terrio) and film editing (William Goldenberg).
Article continues below advertisement
"You can't hold grudges," Affleck, who was famously snubbed in the best director category, said as he accepted the best picture award. "It's hard but you can't hold grudges."
Director Ang Lee received the award many thought Affleck should have won in winning best director for Life of Pi. Lee, who won the same award for Brokeback Mountain in 2006, pulled off an upset over the presumptive favorite, Lincoln director Steven Spielberg. In all, Life of Pi's night-high four awards included Oscars for cinematography, original score and visual effects.
In the acting categories, Jennifer Lawrence took home the best actress award for Silver Linings Playbook, Daniel Day-Lewis captured the best actor award for Lincoln, Anne Hathaway won best supporting actress for Les Miserables, and Christoph Waltz captured the best supporting actor for Django Unchained.
Lawrence, 22, easily provided the night's most memorable -- and embarrassing -- moment when she tripped in her billowy pink Dior Haute Couture gown as she made her way to accept the best actress award, though the humanizing moment brought the audience to its' feet.
Article continues below advertisement
"Thank you so much," The Hunger Games star said. "This is nuts … you guys are only standing up because I fell and you feel bad … that was embarrassing."
Watch the video on RadarOnline.com
|
|
Django Unchained's Quentin Tarantino took home the the best original screenplay Oscar, commenting to presenter Charlize Theron how nice it was to get it from her, as she's his neighbor.
Family Guy creator Seth MacFarlane hosted the event to mixed reviews -- while his song-and-dance man abilities were up to traditional Billy Crystal-esque standards, some of his humor might have been a little much for Hollywood's elite.
His most talked-about joke of the night came as he introduced Django Unchained as "the story of a man fighting to get back his woman, who's been subjected to unthinkable violence.