Jennifer Lawrence's 'Biggest Fan,' Down Syndrome Friend Predicts Oscar Win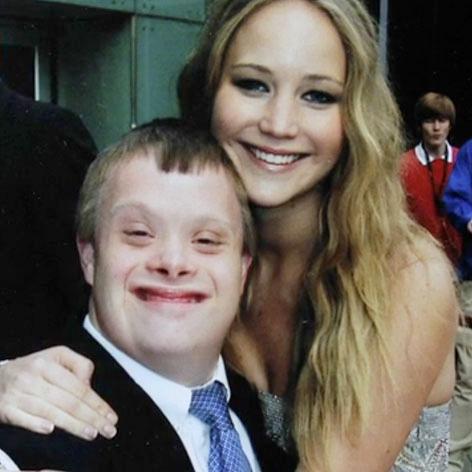 When Jennifer Lawrence goes to the Academy Awards tonight, the Silver Linings Playbook star knows she'll have a very special friend in her corner--her former middle school classmate Andy Strunk, who has Down syndrome.
Andy is such a devoted fan he's dressing up in her honor to watch the Academy Awards on TV!
Andy has been agonizing for weeks about what outfit to wear at his Kentucky home to watch Jennifer at the awards show, reports Kentucky's The Courier-Journal.
Article continues below advertisement
He's determined to look sharp, expecting that the heavily favored actress will walk away with the Oscar. "He's going to wear his tux," Andy's mom Pollyanna Strunk told the newspaper. "He wants to dress up...because Jennifer is going to be dressed up and he wants to celebrate. He'll have his shirt on and his tie and all that...just like he was there."
Kentucky native Jennifer, 22, and Andy, 23, have maintained a touching friendship since they were classmates at Kammerer Middle School in Louisville. Andy says he's her number one fan and has packed his bedroom with movie posters, magazine pictures, and personal photos of the star.
He treasures a picture of himself with Jennifer sitting by the pool at her family home in Louisville.
"We are like best friends," Andy told The Courier-Journal. "She's kind....I think she has spirit."
And if Jennifer wins tonight, Andy will be ready: "I will say 'Yay! Yay! Yay! ' And I will have to be calmed down." Then he plans to send a congratulatory text to Jennifer through the actress' mother, Karen Lawrence, because he knows the Silver Linings beauty will be "very busy."
You can watch The Courier-Journal's interview with Andy here: