WAY Too Sexy For Twitter! 10 Scandalous Celebrity Social Media Snaps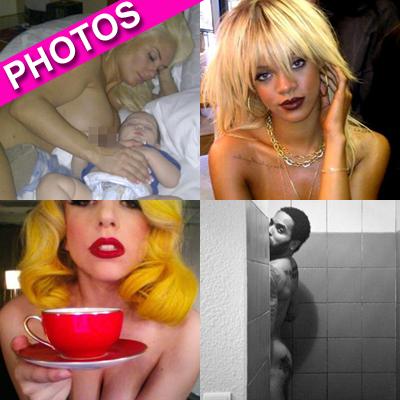 Stars love sharing their personal photos on social media, but sometimes they cross the line!
They may shell out massive wads of cash to hire the top publicists in the business, but even they can't stop Hollywood's hottest stars from posting scandalous photos on Twitter. RadarOnline.com has 10 extremely scandalous and controversial celebrity social media snaps.
Courtney Love and Rihanna clearly aren't bashful about their hot bodies! Both the social media sirens regularly share stripped down photos baring their assets.
Article continues below advertisement
And Coco is one of the most famous fixtures on Twitter, constantly uploading images of her artificial assets and fantastically large booty, but even the curvy reality star was accused of going too far when she shared a pic of herself laying naked in bed with her sister's baby.
Hot ladies aren't the only ones who share stripped down social media photos!
Lenny Kravitz showered his fans with his nudity, with his ultra racy photo from the shower.
Talk about a controversial cake!
LeAnn Rimes treated her hubby Eddie Cibrian to a scandalous birthday treat when she had a cake made for him featuring the couple in bed as a cake-topper with Cibrian's two boys with Brandi Glanville standing beneath.
Which other stars have shared scandalous photos on social media? Find out by clicking here.