It's Oscars Time! Seven Things You Didn't Know About Hollywood's Biggest Night -- The Academy Awards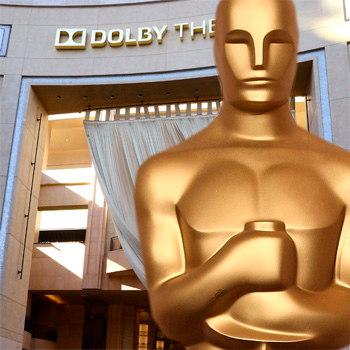 Before Honest Abe tips his top hat at the 85th Academy Awards from The Dolby Theatre in Hollywood Sunday, we've got a special look back at some of highlights that have occurred during the show's amazing history.
So sit back, relax and say "Hooray For Hollywood!" as we present the seven things you didn't know about the Oscars …
7. A Viral Moment (Before Things Went Viral): Any discussion of Oscar lore has to include the run-in between David Niven and streaker Robert Opal in 1974, as the British actor was preparing to announce the Best Picture candidates. As the crowd roared with shock and laughter, Niven made the moment his own, clearly remarking, "Well, ladies and gentlemen, that was almost bound to happen ... but isn't it fascinating to think that probably the only laugh that man will ever get in his life is by stripping off and showing his shortcomings?" Sadly, Opel, a photographer/art gallery owner who pretended he was a journalist to gain access to the show, was killed five years later by robbers breaking into his art studio.
Article continues below advertisement
6. O-for-ever: As great a career as he's had, perennial A-lister Bruce Willis hasn't ever gotten a whiff of Oscar gold — he's never even been nominated! The star of films such as The Sixth Sense, Pulp Fiction and Armageddon said he doesn't "think about it too much," as he generally doesn't thrive in the types of roles Academy voters are partial toward (though audiences are). "It just always has seemed whimsical to me, to think about it," Willis told GQ. "You don't get an Oscar for comedy, and you don't get it for shooting people. You get it for novelty, for being fascinating to watch in some character role. But the 'Die Hard' stuff and 'Dirty Harry' are all fraught with the same thing that every story is fraught with."
5. Posthum Oscars: Many winners have been honored after their death, most recently the great Heath Ledger in 2008, just weeks after his death, capturing the best supporting actor for his performance in The Dark Knight. Others whose legacies were topped off with Academy Awards include Conrad Hall in 2003 (best cinematography, Road to Perdition); Peter Finch in 1977 (best actor, Network) and Howard Ashman in 1991 (best music, Beauty and the Beast).
Article continues below advertisement
4. A Gap In Continuity: David Letterman seemingly made for the perfect Oscar host in 1995, as his career was hitting its stride with the successful launch of his CBS Late Night show. Unfortunately, his amazing aptitude interviewing celebrities did not convert well to the award show, as his eccentric comedy came off as awkward during the formal affair, with critics panning the casting call. Perhaps the harshest critic of late night legend was himself, as Letterman repeatedly made self-deprecating jokes about his disappointing showing the rest of the year.
3. Before Bush, Gore and Florida: A rookie Barbra Streisand (Funny Girl) and already-legendary Katharine Hepburn (The Lion in Winter) split the vote -- each had 3,030 votes -- for Best Actress at the 41st annual Academy Awards in 1969. Presenter, Ingrid Bergman, shouted, "It's a tie!" With Hepburn a no-show, Streisand grabbed the limelight with her solo speech, kicking it off with her line from the movie, "Hello, gorgeous!" Another Oscar dead heat occurred in 1987, when the Best Documentary category had two winners -- Artie Shaw: Time Is All You've Got, Down and Out in America.
Article continues below advertisement
1. Only The Beginning: The very first Academy Awards show was held at the Hollywood Roosevelt Hotel, and admission was only $5 (or, $66.23 by today's standards, factoring in inflation) for the 270 attendees. Academy of Motion Picture Arts and Sciences president Douglas Fairbanks hosted the May 16, 1929 show, which honored the best films of both 1927 and 1928. Dinner was served at the event, and the actual handing out of awards took just 15 minutes. No radio (or TV stations -- as they were still way in the future) broadcast the event -- the only time in the event's vaunted history.