Sexy Streaker! Mischa Barton Strips Down To Her Skivvies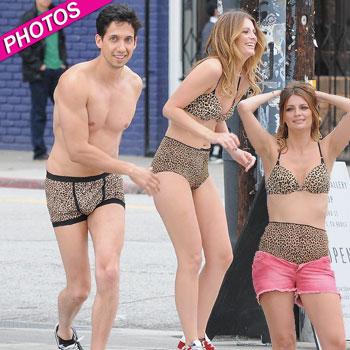 We see London, we see France, we see Mischa Barton walking the streets of Los Angeles in her underpants!
The former OC star showed off her slimmed down figure in a leopard print bra and matching high-waisted granny panties on Monday, while filming a music video for Noel Gallagher's High Flying Birds – and RadarOnline.com has the photos.
"How come when you're running around in your underwear it's cold and today it is beautiful?!" Barton tweeted on Tuesday, the day after she frolicked around the set with a male costar scantily clad in her undergarments.
Article continues below advertisement
The actress, who hasn't appeared in a hit movie or television show since she left The OC in 2006, recently revealed to RadarOnline.com in an exclusive interview that she is totally content with her life.
"As far as criticism is concerned, if it was constructive, I'd take it to heart, but when the intent is solely malicious, I've learned to let it roll off my back," she dished. "I've been working consistently since my age was in single digits and just celebrated my 26th birthday, so it would be nice to be given credit where credit is due. The important thing is my happiness, and I'm quite content!"