Glamour On The Beach! 10 Bikini Babes Wearing LOTS Of Makeup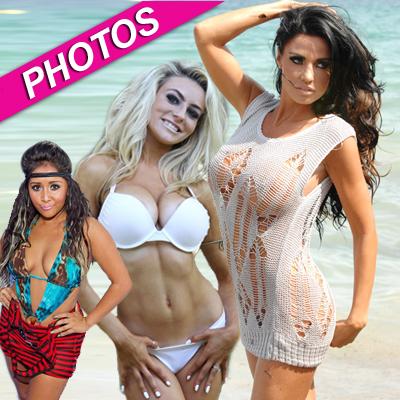 By Leah Ornstein - RadarOnline.com Style & Beauty Editor
With cameras flashing everywhere they go, Hollywood stars have to look their very best all of the time -­ even on the shoreline!
RadarOnline.com has photos of sizzling hot celebrities, whose devotion to glamour is so intense, that they spend hours painting their faces before they strip down into skimpy swimsuits and hit the beach.
Snooki is one of the sexiest bikini babes on the Jersey Shore who has a reputation as a glam guidette to keep up ­- so it isn't surprising that she hits the Sin City pool with a full face of Jersey girl makeup. Recently, Snooks tweeted a photo of her makeup-free face and we were shockingly pleased with her natural beauty.
Article continues below advertisement
Lady Gaga is rarely seen without towering platforms and elaborate designer ensembles, but even the sassiest of singers needs to strip off all their hardware every now and then and hit the beach. However, Gaga still makes sure her face is perfectly made up.
Underage beauty Courtney Stodden loves showing off her hot body in the skimpiest of outfits and barely there bikinis, but one thing the 17-year-old bride doesn't like to take off is her face of makeup.
What other sexy stars hit the beach with lots of makeup on? Find out by clicking here.