Super Slim Snooki Models Mouthwatering Monokinis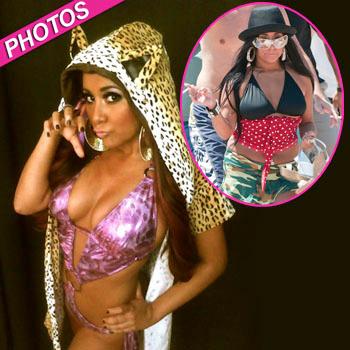 So what if it's the holiday season? Nicole "Snooki" Polizzi's got a body that screams, "Ready for summer!"
The slimmed-down reality star shows off her sleek, toned figure in a new set of swimwear pics she tweeted Wednesday, one a blue number, the other a sweltering purple get-up she paired with earrings and a leopard print hoodie.
The gracious 4-foot-9 Marlboro, New York native wrote tweets to her 3.8 million followers thanking the two different makers of the suits, Susan Holmes McKagan and J. Valentine, Inc.
Article continues below advertisement
As RadarOnline.com previously reported, the potty-mouthed star credits the bulk of her slim-down to the diet pill Zantrex-3 Fat Burner, along with swapping pickles, peanuts and pizza for a healthy diet and regular gym dates with her trainer.
Currently at 103 pounds, Snooki told Wendy Williams last month that she's just five pounds away from her target weight of 98.
If you're looking for some Snooki-related swag while on your holiday shopping expeditions, her new book Confessions of a Guidette is in bookstores now, while her new app Snookify Me is available on iTunes.