Huge Hair, Tiny Waist! Super Skinny Snooki Is A Shadow Of Her Former Self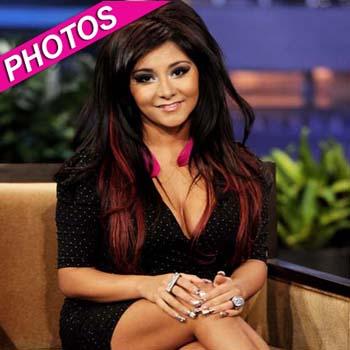 Where are you disappearing to Snooks?!!
Her hair is bigger than ever but Nicole 'Snooki' Polizzi's famous curves are long gone, and RadarOnline.com has photos of the latest step in her miraculous make-over.
Dressed in a skin-tight little black dress and bright pink spotted ankle boots, the 23-year-old Jersey Shore star looked remarkably slim as she stepped onto the stage to chat with Jay Leno on The Tonight Show on Tuesday.
Article continues below advertisement
As RadarOnline.com previously reported, 4'9" Snooki boasted about dropping 15 pounds in September,  and she now looks to have lost even more weight.
The big-mouthed reality star credits the bulk of her slim-down to the diet pill Zantrex-3 Fat Burner, along with swapping pickles, peanuts and pizza for a healthy diet and regular gym dates with her trainer.
Currently at 103 pounds, Snooki told Wendy Williams earlier in the week that she's just five pounds away from her target weight of 98.
Despite dropping several dress sizes since the Jersey Shore first hit the air, some things haven't changed as the fun-loving reality star shared the party plans for her upcoming birthday on November 23 with Leno.
"I started last week when I was in Vegas and I went crazy," Snooki revealed, as Jay flashed a photo to the audience of her clubbing in Sin City.
"I think that my underwear is out but whatever," she laughed.
Article continues below advertisement
The pint-sized star once confessed to an eating disorder, which saw her weight plummet to just 80 lbs.
"In high school, I really wouldn't eat," Snooki told The Insider. "I would only have lunch, and I would only have salads.
"It got so crazy that I would only eat a cracker or a cucumber a day and I would feel full."
Snooki says she "would go into the nurses office every day and I would weigh myself. When she the school nurse realized that I hit 80 pounds, she was like, 'This isn't good.'"