Snooki: 'I Wish Jersey Shore Didn't Show As Much Drinking & Partying'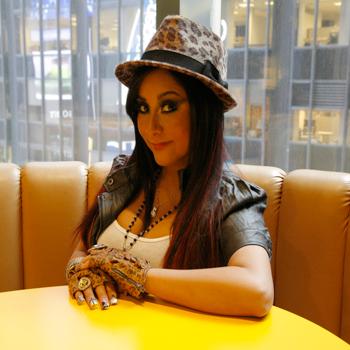 Jersey Shore fans are used to seeing Snooki falling over drunk and smushing with guidos, but the reality TV star wishes there were less shenanigans on the show.
In an interview with on GQ.com, the pint-sized star opened up about the MTV hit, books, politics and veterinary school, and RadarOnline.com has a sneak preview.
The reality star turned book author told the men's magazine that if she produced Jersey Shore she would make some serious changes to the editing.
Article continues below advertisement
"I wouldn't show as much drinking and partying. I would show more of us chilling out and having a good time ---which they don't show," said Snooki.
"We don't even drink those nights, but we laugh all night. They don't show anything but us drinking and hooking up."
She on to rebuke the perception people have that the whole cast are all just party people.
"They just think that we're stupid, that we have no education, and all we do is drink, have sex," Snooki revealed.
Despite her new book Confessions of a Guidette being on the New York Times bestseller list, Snooki claims she never reads and doesn't know who J.K. Rowling or Maya Angelou are.
"I don't read. I don't like to read Harry Potter or anything like that. It's not my style."
More surprising than the fact that Nicole Polizzi doesn't read, is the news that she went to college.
"I have an education, I went to college, you know?" she revealed, explaining that her major was, "Veterinarian tech. Test me and bring me to a hospital. I can induce an animal, do surgery, do anesthesia, and take blood.