Jersey Shore Beach House Renting For $2,500 A Night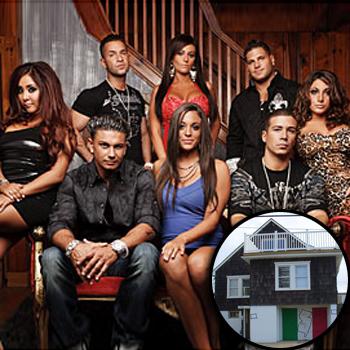 Want to sleep in Snooki's bed? You can.
The Seaside Heights, New Jersey beach house, where MTV's smash hit Jersey Shore is filmed, is available to rent for $2,500 a night.
Philadelphia native Joe Ambrosini, who recently rented the pad, told the Asbury Park Press that every time he stepped out on the deck, people took his picture.
"It was basically the closest thing we'll ever come to being a celebrity," Ambrosini, 33, told the paper. "Whenever we went out on the deck or did anything, right away cameras were flashing and people were saying 'Hey, I think it's one of them.'"
Article continues below advertisement
Toms River native Jennifer Bauer -- whose pals held her 40th birthday bash there last week -- said being in the house made her feel like she "was on the show.
"It was just really cool being able to sleep in the house, in the same bedrooms where the cast stayed, sitting at the table where they eat," Bauer said, adding she brought her own sheets.
Jersey Shore airs on MTV Thursdays at 10/9c.
RELATED STORIES: