Exclusive
Jersey Shore's Vinny Guadagnino: I Don't Kiss & Tell!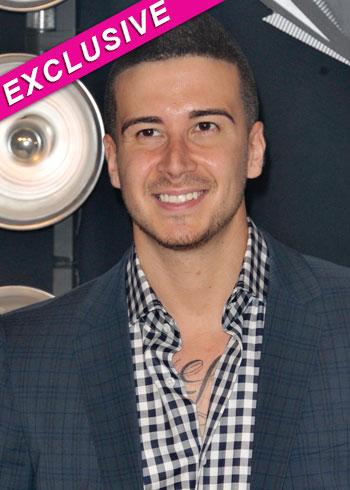 Unlike his boastful Jersey Shore sidekicks Mike "The Situation" Sorrentino and DJ Pauly D, Vinny Guadagnino knows a gentleman never talks, and is keeping decidedly mum on the subject of his love life.
"The loudest person in the room is usually the weakest person in the room," Vinny told Star magazine in an exclusive interview. "I don't kiss and tell."
Still, the tight-lipped fist pumper candidly reveals he did in fact have a tryst with the infamous Snooki, but sadly, theirs was a brief courtship.
Article continues below advertisement
"I've gotten with Snooki and you don't hear me talking about it the next day. I'm not as much of a man wh*re as people think. I'm pickier, and if I end up going home alone, that's fine with me," Vinny shared. "I'm just not that close with her now. She has a boyfriend and a different agenda."
However, another of his female cast mates, Deena Cortese, has proven to have more staying power. "We talk to each other on some deep levels," Vinny said. "Pauly was like her one night stand, but I'm more like her husband."