Vinny Lashes Out At Snooki For Skipping Dinner With Jersey Shore Contest Winner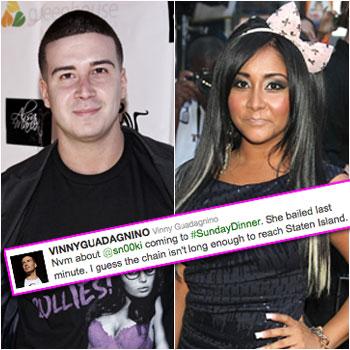 - RadarOnline.com Senior Reporter
Vinny Guadagnino is mad at Snooki and slammed his co-star and possibly even her boyfriend when she skipped out on a dinner with contest winners Sunday night, but is there a little jealousy, maybe?
"SundayDinner today with the fam @Sn00ki @DeenaNicoleMTV @RealUncleNino @laurzins and two random girls who won a contest. Poor girls," Vinny Tweeted Sunday, only to post an update shortly thereafter.
Article continues below advertisement
"Nvm about @sn00ki coming to #SundayDinner . She bailed last minute. I guess the chain isn't long enough to reach Staten Island."
Ouch!?
Is Vinny jealous of Snooki's guy Jionni LaValle keeping her close to him?? There was a romantic history between Snooki and Vinny. Just a few months ago she confessed to crushing on him, but was jealous of all the girls he was hooking up with.
"I'm embarrassed. F**** my life," Snooki said back then. "I like him, but it's not a good look for me to start having feelings since he's bringing home all these girls."