Snooki Laughs Off Fender Bender With Cop, Talks About 'Creepy' Situation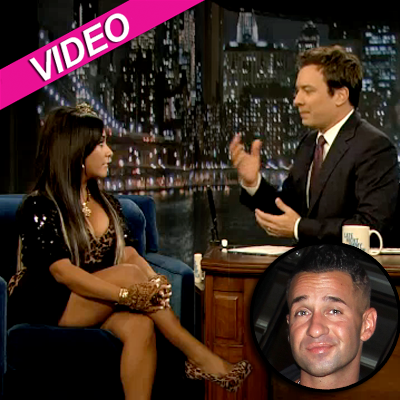 By Adam S. Levy - RadarOnline.com Staff Writer
On the heels on Jersey Shore's top-rated premiere, Snooki sat down with Jimmy Fallon Wednesday night, where she opened up about her experiences taping the show's fourth season in Italy -- including hitting a police car -- and how The Situation got "creepy" in courting her.
Fallon asked Snooki, who's looking slimmed down and red carpet-ready, about the late-May fender bender she got into with a police car assigned to escort the cast around Florence, Italy.
Article continues below advertisement
"Yeah, that sucked -- it was horrible ... who does that?" Snooki said, laughing it off.
One piece of Italian culture Snooki enjoyed was Michelangelo's classic statue, David.
"We had a lot of little statues of David in the house, just because his butt's out -- it was really cute, it was chiseled -- and then you could see his wiener and nice abs and ... that's the only juice that we saw in Italy!"
"That's pretty good -- the statue of David's wiener!" Fallon joked.
MORE ON:
hollywood happenings
Snooki said that while she enjoyed her time in Italy, she feels relieved to come home to New Jersey, calling it "our homeland of Guidos where we can go to Karma (a nightclub), do Scooby Snacks (a bar shot), drive Escalades!"
Watch the video on RadarOnline.com
Snooki also touched on her reported romance with Mike "The Situation" Sorrentino -- and it probably wasn't what The Sitch wanted to hear.
"We're really good friends: He took my friendship as a wrong way, you know," she said, "He got a little too creepy."