Jersey Shore Cast Invades Italy In Season 4 Premiere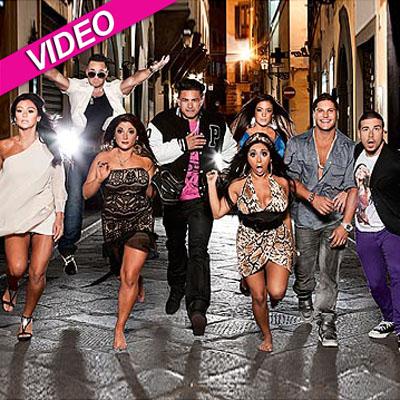 Jersey Shore's fourth season kicked off Thursday night with the cast's trip to Italy and first few days getting used to their new surroundings, and as usual, the cast members were up to their crazy, entertaining antics on the MTV hit.
"You know like Italy's that big country -- no Europe is that big country -- and then you have England in there and then Italy!" Snooki said after having her passport photos taken. "I have no idea where Italy is, but I know it's shaped like a boot!"
Article continues below advertisement
On Thursday, we got up-to-date with the cast since the show's third season ended.
Among the new developments: Snooki, now a workout addict, is in a relationship with a hunk named Gianni; The Situation, living up to his name, has his romantic targets set on the taken Snooki; Sammi has broken up with Ronnie, but still holds a flame for him; Deena had decided she's got the hots for Pauly D.
In the first part of Thursday's episode, we saw the cast getting ready to depart from their native Seaside Heights to the motherland, and Vinny was a laugh fest as he adapted to his new surroundings.
Asked by a relative what the first thing he would do there, Vinny said, "Find out the age of consent!"
Later, when surveying the bathroom at their Florence digs, Vinny seemed a little too happy there was a bidet on the premises.
"We have a bidet -- a bidet is very European -- its a way of cleaning your b***hole when you go to the bathroom ... feels kind good too, on a lonely night!"
The plot thickened when The Situation informed Ronnie that since the end of season three, he'd bedded Snooki.
Article continues below advertisement
Watch the video on RadarOnline.com
"I'm gonna tell you something," he said. "Nobody knows about this. Me and Snooki, we kind of hooked up. Two three months ago. She had the boyfriend and she was like 'Yeah, there's something there.'"
That romance wasn't evident, however, when the cast visited a club, and Snooki wasn't too hip to The Situation's advances, leaving us on a cliffhanger with the show's two biggest stars.
Speaking of housemate hook-ups, by the end of the episode we saw Deena -- who admitted she'd like to get a "friends with benefits" arrangement going with Pauly D -- successfully achieve the first step, as the pair was making out passionately by the end of the episode.
Jersey Shore airs on MTV Thursdays at 10/9c.
Get More: Jersey Shore, MTV Shows
RELATED STORIES: