Jersey Shore's J-WOWW Becomes Victoria Beckham Look-Alike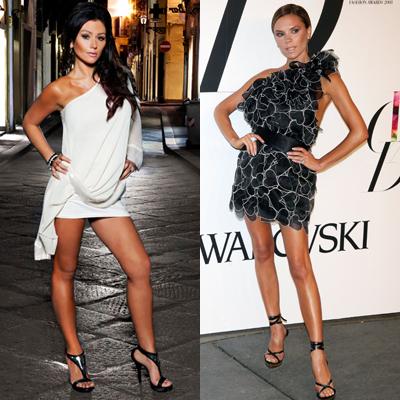 J-WOWW is the talk of the Jersey Shore universe. Her new look, showcased on the season four premiere of her reality show this week, has fans and critics alike voicing their opinions.
The slimmed down, restyled Jenni Farley is now a dead ringer for Victoria Beckham during her Posh Spice days. She has the pose, the pout and the hair down pat.
There have even been suggestions that along with her weight loss, J-WOWW had plastic surgery, thinning down her nose and chin.
Article continues below advertisement
"Flattered I'm the topic of tabloids," Jenni tweeted Friday night. "Funny what people assume when u lose weight and tone. Love the stories."
Whatever J-WOWW did to get her new look, the season premiere episode with the cast in Florence, Italy, was a blockbuster for the stars and MTV.
An estimated 8.8 million viewers tuned in, making it the third most-watched series episode in MTV history, and one of the highest-rated episodes on any network this week.