Super Skinny Snooki Gets A Hoist Up To Decorate The Christmas Tree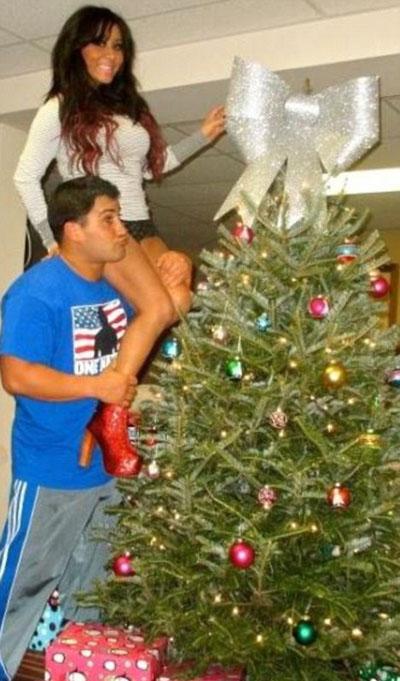 'Tis the season for some fist pumps!
Yes, that's sexy, slimmed-down reality star Nicole "Snooki" Polizzi and her boyfriend Jionni LaValle decorating their tree in a pic she tweeted Sunday.
"Our first tree =)," the 4-foot-9 Marlboro, New York native wrote along with the tweet.
Snooki and Jionni have had a fiery ride so far, but since reuniting in August, after a two month break, it all seems to be firmly back on track.
Article continues below advertisement
After reconciling Snooki gushed: "Jionni's a great guy, so you know I'm so down to make Guido babies with him!"
Going on to claim: "When it's time to get married, I'll be an amazing wife."
Snooki has said she's not ready to get married at 23, but when she does, "I want a big ring baby!"
Snooki raved about Jionni in an appearance on The Tonight Show earlier this year.
"He's actually going to school to be a gym teacher and he's a wrestling coach for little kids," she said. "His family is awesome. They do Sunday dinner all the time. They're a great family."
Looking for some Snooki-related swag for a loved one? Her new book, Confessions of a Guidette, is in bookstores now; her new app Snookify Me is available, as well.
Meanwhile season five of Jersey Shore will air on MTV on January 5, 2012 — you can watch the trailer for the new season here on RadarOnline.com.