Hotties At Every Height! Bikini Babes From Tiny To Tall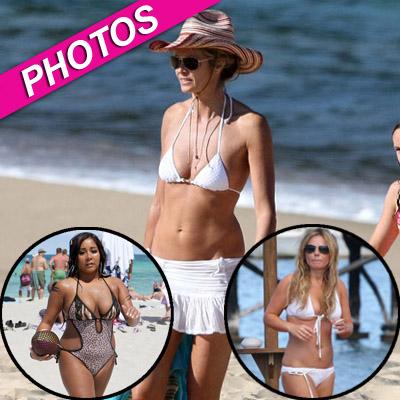 By Leah Ornstein - Radar Style & Beauty Editor
From the shortest sexpots on the shoreline to the tallest glasses of water, these Hollywood stars definitely know how to steam up the beach no matter how they measure up on the totem pole!
RadarOnline.com has pics of the hottest bikini babes on the beach at every height in a special photo feature.
The shortest bikini babe on the Jersey Shore is definitely none other than Snooki!  The 4'9" fireball definitely makes up for her lack of height with her feisty attitude – don't mess with Snooks!
Article continues below advertisement
Other vertically challenged hotties include Hilary Duff, Fergie, Avril Lavigne and Carmen Electra.
And while 5'4" Megan Fox, 5'5" Lindsay Lohan and 5'6" Jessica Alba have model looks, the bigscreen babes don't have the height for the catwalk.
It shouldn't come as a surprise that catwalk crawlers Elle Macpherson, Gisele Bundchen, Naomi Campbell, Cindy Crawford and Adriana Lima all finish off the list, towering over all the other sexy stars.
To see all the bikini babes on the beach from tiny to tall, click here.