Naked Faces! Even More Stars Without Makeup!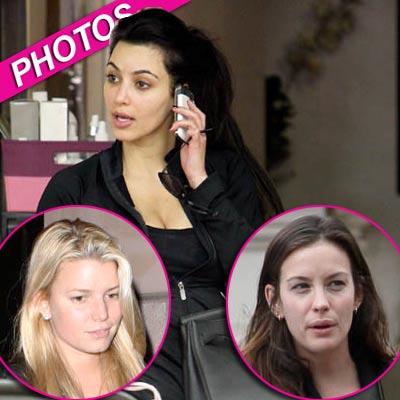 On the red carpet, they dazzle with their glamour and beauty, but when they are caught off guard without their made up faces, Hollywood's hottest stars look a lot more like us!
RadarOnline.com has brought you photos of stars without makeup, more photos of stars without makeup, and now, we have even more photos of stars without makeup!
Even Nicole Richie enjoys the Simple Life sometimes! The reality star and fashion mogul always sets trends on the red carpet, but is her beauty totally natural?
Article continues below advertisement
Kate Moss and Molly Sims have reigned the catwalk for years, but are the supermodels bare-faced beauties?
Kim and Kourtney Kardashian are two of the glammest stars on reality television. The sexy sisters spend a lot of time getting their makeup done up for the cameras, but when their crew has gone home for the day and their makeup artists are off duty, how does the duo look?
To see all these stars and several more bare-faced and makeup free, click here.