Exclusive
Mischa Barton On Fashion, Life In The Public Eye & How She Deals With Haters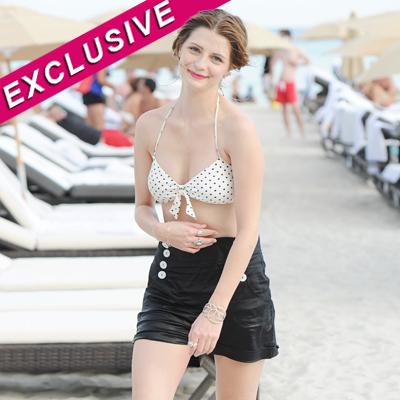 Article continues below advertisement
Debuting as an actress in 1995 when she was just 9 years old on All My Children, Mischa enjoyed success on the big screen with roles in movies like The Sixth Sense, Lost and Delirious and Tart before snagging the lead role in the hit television show The O.C in 2003.
Leaving the show in 2006, she went on to pursue a career in film, appearing in several straight to DVD films and gaining notoriety in the press for her relationships with Hollywood bad boys Brandon Davis and Cisco Adler, as well as her legal troubles, but Mischa refuses to let the criticism get to her.
"As far as criticism is concerned, if it was constructive, I'd take it to heart, but when the intent is solely malicious, I've learned to let it roll of my back," she exclusively tells RadarOnline.com. "I've been working consistently since my age was in single digits and just celebrated my 26th birthday, so it would be nice to be given credit where credit is due. The important thing is my happiness, and I'm quite content!"
Article continues below advertisement
In addition to several upcoming film projects, including Bhopal, a movie with Martin Sheen and Kal Penn which was inspired by true events and shot on-location in India, spending time with her family and friends and "taking time to smell the roses," the actress has been focusing on the launch of her new website.
"I've been interested and inspired by fashion since I was a young girl," she explains about the decision to start her own line. "For me, it's the most creative form of self-expression, so to launch my own clothing line was a very fluid and natural transition. The success of my handbag line has enabled me to expand into clothing, accessories, beauty and makeup; all of which is very exciting and can be previewed online at MischasPlace.com and will eventually be available at my London boutique."
The clothing collection, which consists of about 30 items with everything from flirty skirts and dresses to military style jackets and basic leggings, ranges in price from $36-$280.
"My inspiration for the collection was varied," she explains, "but for the most part, I just wanted to design a collection that is fashionable, comfortable, and wearable; items that I'd personally want to incorporate into my own wardrobe."
Article continues below advertisement
Also featured on the website is her cosmetics and beauty collections, as well as her handbag line.
As for any advice for actresses that hope to follow in her fashionable and famous footsteps?
"My main advice would be to only pursue acting as a career if it's innately what you dream of doing," she says. "If someone is star-struck and caught up with the glamour of it all, they'll be sorely disappointed. It takes a combination of talent, inspiration, perseverance, focus, a strong support team, and of course, luck, along with a whole lot more."