Drugs, Depression, Multiple Suicide Attempts, 7 Things You Didn't Know About The Tragic Life Of Mindy McCready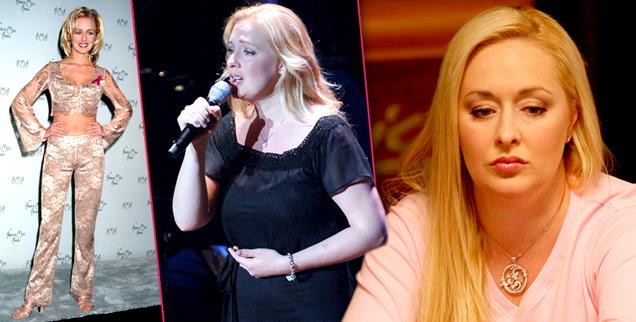 Article continues below advertisement
Desperate to be reunited with the man she described as her soulmate, the 37-year-old country singer had spent the last three weeks of her life sleeping all day, drinking all night, taking prescription drugs and "not bathing or even helping take care of her 2 children," according to court documents filed by her worried father.
In memory of the Guys Do It All The Time singer, RadarOnline.com is taking a look back at the decades of demons that haunted Mindy and tragically finally drove her to an early grave.
Bright Future
7. Born Malinda Gayle McCready in Fort Myers, Florida, on November 30, 1975, Mindy's singing career began at a very early age when she starting belting out hymns at the local Pentecostal Church at just age three. As a talented 16-year-old, she already knew her career lay in the music industry, and at 18, she moved to Nashville where she was signed to BNA Records.
Sex, Love And Baseball
6. Growing up quickly in a fast-paced industry landed Mindy in the midst of a scandal before she had even graduated high school. At 15, she began an alleged decade long affair with baseball star Roger Clemens, which included trips on Clemens' private plane and visits to Yankee Stadium to see her beau pitch. According to the Huffington Post, McCready confessed to the teen romance with the then-Red Sox pitcher after the New York Daily News broke the bombshell revelation in 2008, telling the newspaper: "I cannot refute anything in the story… I have known Roger for a long time."
Article continues below advertisement
Clemens was 28 and a married father-of-two when he first met McCready, and although his lawyer, Rusty Hardin, confirmed that he knew the aspiring country singer, he denied it was in a sexual way. "At no time did Roger engage in any kind of inappropriate or improper relationship with her," Hardin said in response to the Daily News expose.
McCready later confirmed details of the affair to Inside Edition, but said that her relationship with Clemens did not become sexual until after she was 18. In May 2010, a sex tape with a man known only as 'Peter' hit XXX-rated video shelves in which she talked about her affair with the baseball star, discussing his good skills in bed but occasional impotence.
Lots Of Lovers
5. Flying on the success of her debut album, Ten Thousand Angels, in 1996, the pretty blonde bagged a string of celebrity boyfriends including Lois & Clark: The New Adventures of Superman star Dean Cain – who she rushed into an engagement with that quickly fizzled - and NHL player Drake Berehowsky, but it was with aspiring singer William Patrick "Billy" McKnight that her love life really started to take a downward spiral. The couple began dating in December 2005, and just 18 months later McKnight was arrested and charged with attempted murder for beating and choking McCready after breaking into her Nashville home and threatening to kill her. "He had a crazed and wild look in his eye that I have never seen him have before," she later revealed.
Article continues below advertisement
Stars Tweet Tributes To 'Dear Sweet Girl' Mindy McCready
First Suicide Attempts
4. McCready cut ties with McKnight but the violent attack led to her first suicide attempt in July 2005, when she was found unconscious on the lobby floor of a Florida hotel and was subsequently hospitalized for a drugs overdose. Sadly the brush with death didn't keep Mindy away from her abusive ex, and soon after they reunited she became pregnant with son Zander Ryan McCready (now six) -- tragically, she tried to kill both herself and her unborn child by overdosing on antidepressants during her pregnancy.
Even as a mother, McCready was still determined to die to escape the pain in her life, and on December 17, 2008, she was rushed to hospital for attempting to slit her wrists. Yet another overdose in December 2010 was initially blamed on a bad reaction to the prescription drug, Darvocet, however, McCready's mother told RadarOnline.com exclusively that she believed it was a suicide attempt.
Trouble With The Law
Article continues below advertisement
3. In August 2004, McCready was arrested in Tennessee for using a fake prescription to buy the painkiller OxyContin. Although she initially denied the charge, she subsequently pleaded guilty and was fined $4,000, sentenced to three years probation and ordered to perform 200 hours of community service. She didn't stay out of handcuffs for long though, and less than a year later the singer was stopped for speeding and the arresting officers discovered she was both driving under the influence and without a valid license.
A string of arrests and drug charges followed over the years including identity theft, probation violation and drug possession. Her most bizarre illegal act though was in July 2007 when McCready was arrested back in her hometown and charged with battery and resisting arrest after getting into a vicious fight with her mother, Gayle Inge, leaving deep scratches in her face.
She was sentenced to a year in jail, two years of probation and 200 more hours of community service for violating the terms of her 2004 probation. Her family life didn't get any better upon her release from prison when she became embroiled in a bitter custody battle with her mom over Zander, who Mindy then snatched and fled to Arkansas with in 2011, where they were both eventually found hiding in a closet.
Article continues below advertisement
Celebrity Rehab Death Toll
2. McCready's inability to get clean despite her addictions literally ripping her life apart landed her on the cast of Celebrity Rehab With Dr Drew during the VH1 show's third season, where she sought treatment for alcohol and prescription drug abuse, and appeared alongside along former Alice In Chains bassist Mike Starr (who died of a prescription drug overdose two years ago) and Real World cast-mate Joey Kovar (who died of an opiate overdose last year).
Mindy's suicide on Sunday makes her the fifth participant on the show to die in the past two years, but at the time she credited the hit rehab reality show with saving her life. "I was meant to be on that show," said McCready.
Dr. Drew Pinksy released a statement Monday expressing his sadness over his former patient's death. "Although she was fearful of stigma and ridicule she agreed with me that she needed to make her health and safety a priority. Unfortunately it seems that Mindy did not sustain her treatment," he said.
Article continues below advertisement
Family Life And Loss
1. It appeared that Mindy may have finally found domestic bliss with record producer boyfriend David Wilson when the couple welcomed new baby, Zayne, 10 months ago, especially when a judge awarded her custody of Zander, as well. Happiness was short-lived however, and last month David was found dead reportedly from a self-inflicted gunshot wound on the same porch where Mindy would ultimately die.
"He was my life. We were each other's life. There's no way to tell where one of us began and the other ended," said McCready, while battling speculation that she had been involved in her lover's death. "People have fights—it's just like normal couples. David was not having an affair with another woman. That is absolutely, totally untrue. Neither one of us have ever cheated on each other and would never do that. That is absolutely a lie," she adamantly insisted.
If you, or anyone you know, is struggling with thoughts of suicide, please immediately seek help -- you can speak with a skilled, trained counselor at a national Suicide Prevention Lifeline crisis center in your area, anytime 24/7 -- call 1-800-273-TALK (8255)