Brandi Glanville: Taylor Armstrong Was Drunk At Kids' Party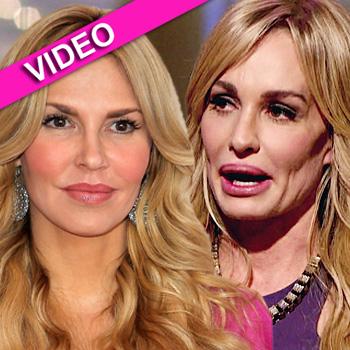 Article continues below advertisement
On Thursday, Brandi wrote that "when Taylor arrived seemingly drunk to … the birthday party, I had a good idea that s--- was gonna go down.
"So after hearing some of the things she was starting to talk about and also seeing her passive aggressively ignore me as she spoke to both of people sitting on either side of me, I decided to get gone."
Brandi wrote that while she's confident she can handle a confrontation with Taylor, she refused to do so at an event with children all over the place.
"When kids are involved us grown-ups that sometimes act like children need to stick to acting grown up," she wrote. "So I skidaddled as quickly and quietly as possible."
Watch the video on RadarOnline.com
As we previously reported, Taylor's and Brandi's feud began last season, when Brandi accused Taylor of exploiting her late husband Russell's death by quickly releasing a book.
Elsewhere in the blog, she wrote she was confused as to why Kyle Richards didn't tell Adrienne Maloof outright that Lisa Vanderpump doesn't owe her an apology; and that new castmate Yolanda Foster "is the best mom ever and has the most wonderful, well rounded, un-entitled sweet children."