RHOBH Premiere: Adrienne Hurt Over Lisa's Party Snub, Brandi Jokes She's 'Slept With Everyone' In Town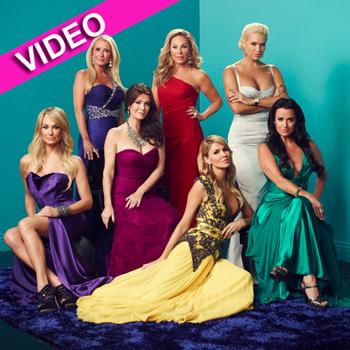 Beverly Hills -- a town where money grows on perfectly manicured trees and drama comes by the Maserati load.
This was truly the case in the Season 3 premiere of The Real Housewives of Beverly Hills, when Adrienne Malooof was denied an invite to Lisa Vanderpump's restaurant party and Brandi Glanville insinuated that she's slept with half the men in town, and RadarOnline.com has all the juicy details.
Article continues below advertisement
Between moving into a sprawling new home in the hills and planning a third anniversary party for Villa Blanca, Lisa was hard at work, and she made no qualms about not being on good terms with her former friend and neighbor Adrienne.
"I was very hurt by what went down with Adrienne," Lisa said. "It takes a lot to piss me off, but she managed it."
While on the phone with Adrienne, Taylor Armstrong innocently let the cat out of the bag about Lisa's party and that's when Adrienne realized she wasn't invited.
"To not be invited is a little bit embarrassing, and if that was her intention then it's really sh**ty," Adrienne admitted. "It's a little bit mean girlish, and it seems pretty frivolous to go to this extent."
All of the other housewives arrived at Villa Blanca for the party, including the newest housewife, former model Yolanda Foster. While making acquaintances and bonding with everyone, she was introduced to Brandi, who claimed that in such a small town "you know everyone, you've slept with everyone. It's all good."
Article continues below advertisement
"I was speechless," Yolanda later admitted. "You've slept with every guy in town...interesting."
While chatting with Kyle Richards about their mutual zodiac sign Capricorn, Yolanda finds out that Brandi is a Scorpio.
"That's why she said, 'I slept with everybody in this town,'" Yolanda said. "Scorpio, they say, is the most sexual sign of the zodiac."
Taylor, who's had her own drama with Brandi, was quick to add her two cents.
"Even if she has slept with all of Beverly Hills, and listen I don't doubt it, I don't know that she needs to be announcing it at a Villa Blanca anniversary party to someone she just met," Taylor remarked.
As everyone was sipping on champagne and mingling, Lisa was called to the side to receive a very extravagant -- and unusual looking -- flower arrangement from none other than Adrienne!
"I think it was supposed to be an olive branch, but it looked like the whole damn tree came in the room," Kyle joked.
Article continues below advertisement