Taylor Armstrong Slurs Her Way Through Radio Interview, Says She's Found The Love Of Her Life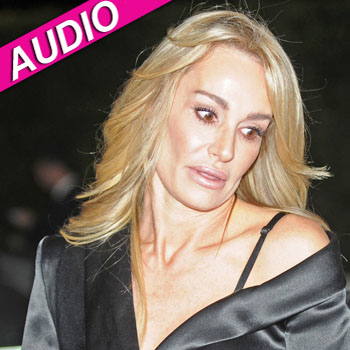 Article continues below advertisement
"I'm in Mexico and I'm so happy, you have no idea. It's sunny, it's fabulous. It looks just like Australia," Taylor says, and then switches into Australian mode, talking with an accent from Down Under.
"I love Australia so much, and it's just like being in Australia, being in Mexico."
Taylor slurs her way through the interview and doesn't always make sense, but when asked about who she's vacationing with she first says she's with two male gay friends, then admits that her boyfriend is there with her also.
"I'm with my gay BFFs. They are two gay guys who are so sexy and hot and it's just so amazing to be with my gay best friends," she says.
"I have met the love of my life. He's amazing, he's perfect, he's everything I've ever wanted in my life… He's diving in the pool right now, and he's the most beautiful man I've ever met in my life."
After Mexico, Taylor will be heading to Australia but says her boyfriend, whom she refused to name, will not be going with her.
Article continues below advertisement
"He has to work because he has to make a lot of money in order to support me!" she jokes.
As for the housewives, Taylor says to expect lots of drama.
"We are out of control, as usual, and we are obviously very dramatic and very in love with one another. These women are my best friends and my worst enemies," she says.
"My best friends are Kyle and Lisa. I love them beyond control. I just love those women, beyond. My enemies, you're going to have to wait and see."
Listen to Taylor's full interview here and sound off below.