Exclusive
Taylor Armstrong Got 'Extremely Intoxicated' At Kyle Richards' Annual White Party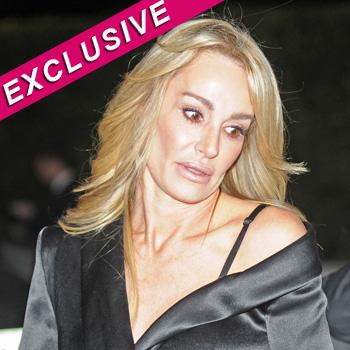 Article continues below advertisement
It's not the first party Taylor has been intoxicated at recently. As we previously reported, Armstrong got boozy drunk at Lisa Vanderpump's tea party from hell. "Taylor arrived at the tea party and just had an enormous chip on her shoulder and proceeded to get extremely intoxicated. Taylor was in everyone's face, blithering on and on in utter nonsense. The tea party was an absolute disaster and did nothing to cool the ladies down," a source told RadarOnline.com.
Meanwhile, Adrienne Maloof and hubby Dr. Paul Nassif came under fire at Kyle's party from Taylor's fellow drama queen, Brandi Glanville!
"Adrienne and Paul were also the center of attention because Brandi kept telling all of the other guests that Adrienne was suing her," the source says. "No legal action has ever been taken though, Adrienne's attorney sent Brandi a cease and desist letter because she was making outrageous claims about her family. The letter was to put Brandi on notice that she needed to keep her mouth shut when it came to Adrienne's family. Brandi is just pure drama all the time. Poor Kyle had planned this gorgeous party and her guests were acting like total hicks most of the night."