The Real Housewives Of Beverly Hills: White Party Turns Dark When Taylor & Russell Get The Boot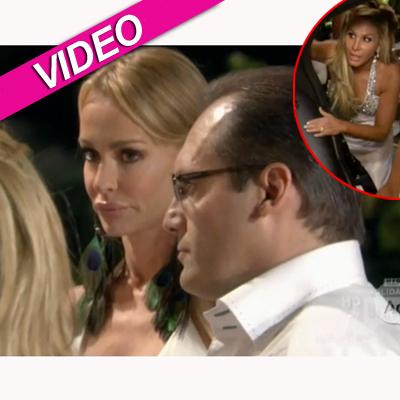 The tension on this season's Real Housewives Of Beverly Hills hit a fever pitch Tuesday night, as the cast asked Taylor Armstrong and her late husband Russell to leave a party, upon learning he threatened to sue Camille Grammer for her talk of his alleged abusive behavior toward Taylor.
RadarOnline.com has the clip so you can watch the drama unfold.
The stage for the showdown was Kyle Richards' annual white party, and before the Armstrongs had even arrived, Kyle and Lisa Vanderpump tried to contact her to warn her that trouble was brewing.
Article continues below advertisement
Taylor might have known as much, as her ongoing rift with Camille -- sparked by Camille's gossiping about the purported abuse -- made Taylor "very apprehensive" about seeing the ex-wife of Kelsey Grammer.
"I told Russell what happened during a therapy session and he wasn't happy about it," Taylor said in an off-camera interview.
When the couple finally arrived to the party, Kyle (in tears) told Taylor they had to leave, explaining that Camille and Russell could not be in the same room -- as Camille was advised by her lawyer in the wake of the legal threats.
Russell tried to smooth things over, explaining to everyone, "I heard a rumor and I sent Camille an email saying that if you made this comment, it's false and why would you say something like that?"
No one was buying Russell's story however, and Adrienne Maloof told him, "Friends don't threaten friends."
In Taylor's defense, she said she didn't know about Russell's lawsuit threat, claiming Camille "repeated an exaggerated version of what I told her...something I should not have told her."
Article continues below advertisement
Watch the video on RadarOnline.com
In another separate sequence from Tuesday's episode, Kim Richards brought her new boyfriend Ken Blumenfeld to the party to meet everyone for the first time — but he was greeted with a chilly reception from the fellow housewives -- most notably, Kim's own sister, Kyle.
"I'll be nice to him, but I'm not going to bend over backwards for him," Kyle said.
Ken was arrested in 2009 for a DUI, which has raised concerns about the 48-year-old's influence on Kim's sobriety — seeing as how she checked into rehab earlier this month for her abuse of alcohol and self-admitted cocktail of prescription pills; including Lexapro, Trazadone and Topamax.
As RadarOnline.com previously reported, Taylor's husband Russell, 47, was found dead in a Los Angeles home on August 15 after he hanged himself. He is survived by wife Taylor and three kids: son Aiden, 13 (with ex-wife Barbara Fredrickson); son Griffin, 11 (with former fiancée Milette Fields); and daughter Kennedy, 5 (with Taylor).
The Real Housewives of Beverly Hills airs Mondays on Bravo at 9/8c.