Exclusive
Kyle Richards Blasts Kim's Boyfriend, 'I Don't Think He's The Right Person For My Sister'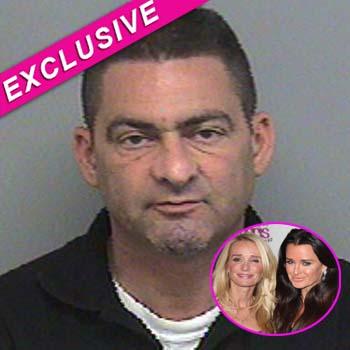 Real Housewives of Beverly Hills stars Kyle and Kim Richards have had their fair share of family drama, but they could be facing their worst stand-off yet over Kim's shady new boyfriend Ken Blumenfeld, RadarOnline.com can exclusively reveal.
"I don't think he's the right person for her," Kyle told RadarOnline.com in an interview on Wednesday at the Virgin Unite's 5th Annual Rock the Kasbah in Hollywood.
Article continues below advertisement
"I just really love my sister and I want the best for her, and I just don't think that is the best situation for her."
Kim kept her year long relationship with Blumenfeld a secret from her family, only telling them about him after they made the decision to move in together.
The couple is still cohabiting but Kyle is hoping that won't last long.
"I think she is beginning to come to her senses. I really hope she will," Kyle exclusively told RadarOnline.com, adding that she hasn't been invited over to their love nest, "No, I have not!" she laughed when asked.
As RadarOnline.com previously reported, Kim's man has a very colorful past including an arrest in 2009 for a DUI, which raises concerns over the 46-year-old reality star's delicate sobriety.
Already incredibly suspicious of Blumenfeld, Kyle is even more disturbed since the news of the drink driving offense broke on Wednesday.
"I just heard about the DUI...I just heard about that today," she exclusively told RadarOnline.com. "And the Match.com thing, I spoke with her yesterday and she hadn't heard about that yet."
Article continues below advertisement
Richards was referring to the revelation, which RadarOnline.com was the first to report, that Ken is still on the dating site Match.com and was last active three weeks ago — just before he was showcased on the popular Bravo show.
Explaining why her sister hadn't heard the bombshell news yet, her protective sibling explained, "My sister doesn't read any magazines, she doesn't look at any blogs or anything like that. Every now and then she gets on Twitter but she doesn't pay attention to it.