Brandi Glanville Turns From 'Bullied' To Bully: Brands New Housewife Yolanda Hadid A Slut!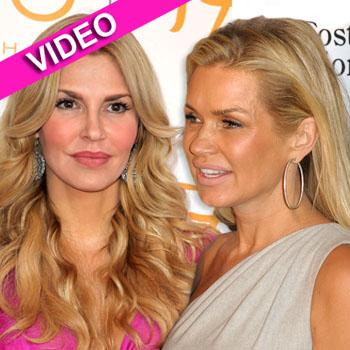 "Bullied" Brandi Glanville is back for the Real Housewives of Beverly Hills season 3 with a new (mean girl) attitude, and RadarOnline.com has the rundown on her bad behavior.
Listen! 'RHOP' star Wendy Osefo breaks down the "most intense fight in the show's history" in under 2 minutes.
In past seasons, Brandi has tried to play the role of the "bullied victim" picked on by her fellow housewives.
Article continues below advertisement
Glanville takes no time to take aim at Hadid, but starts off nicely enough: "Your ex-husband is Mohamed," she says.
"It's a small town," Hadid replies neutrally.
"You know everyone, you've slept with everyone, it's all good," Glanville zings.
Lisa Vanderpump tries to mediate the tension by explaining: "Brandi started off in a bad place with the other women."
Welcome to the world of Real Housewives Yolanda - the claws are out and nobody is safe from gossip and scandal in the "small town" of Beverly Hills!
Article continues below advertisement