Exclusive
David Foster's New Wife Yolanda Hadid Joins The Real Housewives of Beverly Hills Cast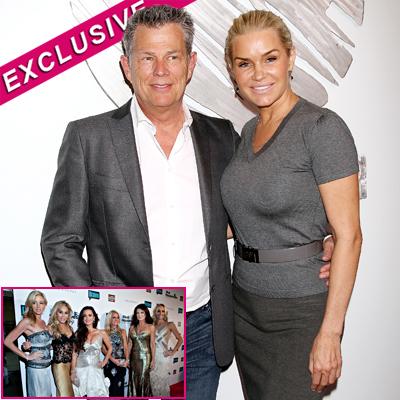 Radar Assistant Managing Editor
David Foster's new wife, Yolanda Hadid, has officially joined the cast of the Bravo hit television series, The Real Housewives of Beverly Hills, RadarOnline.com has exclusively learned.
As we previously reported, Camille Grammer decided to quit the show because Bravo executives didn't want her to be a part of the main cast anymore, and she would have been relegated to guest appearances. Bravo executives also had wanted Camille to appear on camera with her boyfriend and children, but she refused.
Article continues below advertisement
Hadid, a stunning blonde Dutch model, is the fourth wife of the legendary music producer and has already begun filming with her fellow housewives. Hadid is fitting right in, and she's known Lisa Vanderpump for years.
"What most people don't realize is that Yolanda was married to Lisa's very good friend, Mohamed Hadid. Mohamed has appeared several times on the show, including during the last season when he threw an over the top engagement party for Lisa's daughter, Pandora. Yolanda is going to make an excellent addition to the cast and she can definitely hold her ground if the claws come out; she is no shrinking violet," a show insider tells Radar.
Filming recently began on the third season which is expected to premiere in the fall. "Filming began last week on the third season with Kyle Richards. She has a lot going on in her life right now, including helping her sister and fellow cast member, Kim Richards, navigate the sometimes rocky road of sobriety," a source told Radar.
"Kim's sobriety and recovery are going to be a focal point of her story line. The ladies haven't all filmed together yet, but are expected to begin that next week. Kyle has been lamenting that she is really going to miss Camille because she added much needed class to the show."
Article continues below advertisement
The insider went on to reveal, "The ladies are also extremely concerned about Taylor's drinking problem. It has really gotten out of control, and they all believe she is an alcoholic in need of help. Taylor needs to go to rehab and the producers have talked to Kyle and Kim about how best to approach her drinking problem, because Kim's battle with the bottle was documented on the air. There has been talk of doing an on-camera intervention for Taylor."
Taylor's husband, Russell Armstrong, committed suicide last August amid serious financial troubles and relationship woes. His death came just weeks after Taylor filed for divorce and was featured as a central story line of the second season of the reality franchise.
"Producers also want to lighten things up for the upcoming season. There was so much sadness in the last season because of the suicide and Kim's drinking problem," the source tells Radar.