The Real Housewives Of Beverly Hills Finale: Pandora Marries; Taylor Reunites With Cast After Russell's Suicide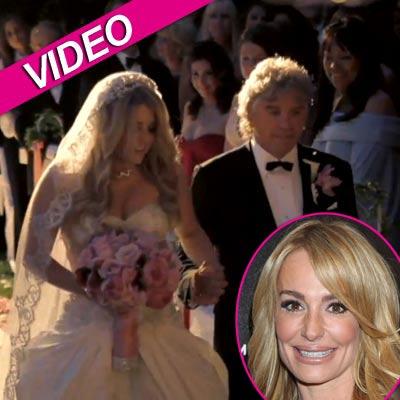 Monday's one-hour finale of The Real Housewives Of Beverly Hills focused primarily on the wedding of Lisa Vanderpump's daughter Pandora, and put a bow on most of the season two storylines -- most notably that of Taylor Armstrong, who did not appear on camera until the final minutes of the program in the wake of her husband Russell's suicide.
The British restaurateur Lisa spent much of the episode putting the finishing touches on the wedding, as castmate Camille Grammer predicted the affair would "be Vanderfabulous, just like her."
Article continues below advertisement
Come the big day, Pandora sparkled in $6,000 Ian Stuart dress, with Lisa telling her "It's been an honor to be your mother."
"It looked like a million dollar wedding but Lisa is smart enough not to spend that money," Camille said. "It was a pink wonderland, she turned her garden into a five-star hotel."
Watch the video on RadarOnline.com
Of note: Housewife Brandi Glanville was not on hand, presumably because of the tension between she and some of her castmates.
Saving the most-anticipated for last, Taylor Armstrong emerged at the end of the episode at a get-together following Russell's suicide, getting well wishes from all of her castmates.
At that point, the show explained what happened with each of the housewives via onscreen graphics:
Taylor has been trying to keep afloat after the tragedy. Facing financial and legal issues, she's publishing her memoirs.
Article continues below advertisement
Camille and her beau are still hot and heavy. Emphasis on the hot.
Lisa and Ken downsized to a 10,000 square foot home…and promptly added 2,000 more.
Adrienne is celebrating her shoe line's success…and having a new neighbor across the street.
Kim is not pregnant. She checking herself into a drug and alcohol rehab program in December.
Kyle wrote an advice book for women. It includes a chapter on sisterly love.
Finally the ladies, in a series of voiceovers, recalled the trials and tribulations that bonded them on the second season of the Bravo hit.
"These ladies are my family, I'm so grateful to have him in my life," Taylor said, while Camille noted "What we went through has made us closer."
We exclusively reported that both Taylor and Camille might be gone from the series to make way for new cast members.
Article continues below advertisement
"Producers are asking Lisa Vanderpump, Adrienne Maloof and Kyle Richards if any of their wealthy female friends would be interested in appearing on the show," a Bravo network insider told RadarOnline.com. "It's an open secret that Camille Grammer most likely won't be back for a third season. She came off as such a b*tch during season one, whereas this season she has been very reserved, and she isn't exactly eager to return."
This season of the show documented Taylor's shaky relationship with her late husband Russell, who she claims abused her throughout their marriage. The 47-year-old businessman was found hanged at a Los Angeles home August 15, after it was taped. He is survived by Taylor and three kids: son Aiden (with ex-wife Barbara Fredrickson); son Griffin (with former fiancée Milette Fields); and daughter Kennedy (with Taylor).
Article continues below advertisement