Exclusive
Brandi Glanville Boasting She's Hooking Up With Housewives Producer!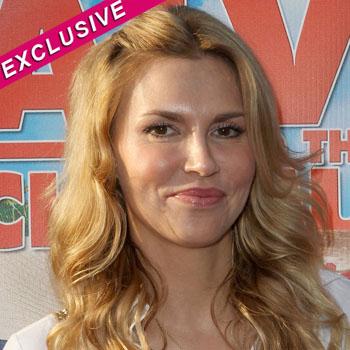 Article continues below advertisement
"Brandi has been boasting to her friends that she has been hooking up with Alex," a show insider tells RadarOnline.com exclusively.
"Brandi says she isn't serious about the relationship, it's just a bit of fun, but that Alex has very, very serious feelings for her. Brandi's co-stars, Adrienne Maloof, Yolanda Hadid and Kyle Richards are particularly worried that Brandy's relationship with Alex will adversely have an impact on how they are portrayed on the show on the upcoming season. Brandi has made it known that she wants her own spin-off show and wants as much camera time as possible while she is on Housewives . It's just not fair to the other ladies that Brandy has been carrying on with one of the show's producers."
Article continues below advertisement
New video of Glanville and Hadid's first meeting has been released — and it is NOT nice!!
Glanville wastes no time in taking aim at Hadid, but starts off nicely enough: "Your ex-husband is Mohamed," she says.
"It's a small town," Hadid replies neutrally.
"You know everyone, you've slept with everyone, it's all good," Glanville zings.
As all this drama has unfolded, Brandi later accused Adrienne of selling negative stories about her to the press. (Sorry Brandi, she didn't sell us anything!)