Exclusive
Miami Housewives Blowup! Joanna Krupa's Fiance On Joe Francis: I'd Like To See How Tough He Is Behind Closed Doors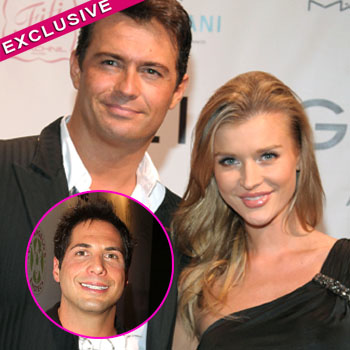 By David Perel - Executive Vice President/Managing Editor Radar
For the Real Housewives of Miami, the action is violent onscreen and it's getting even rougher off screen.
Adriana De Moura punched Joanna Krupa on a shocking episode Sunday, but now Joanna's fiance Romain Zago tells RadarOnline.com exclusively that he's prepared to do what's necessary to shut up Joanna's other antagonist, Joe Francis!
"Joe is gross and repulsive," Romain told Radar in an exclusive interview. "He's the kind of guy you don't want at your party. I don't want to stoop to such a low level…."
Article continues below advertisement
But Romain is fired up because the Girls Gone Wild founder dissed Joanna and claimed he slept with her and her younger sister Marta.
"Behind closed doors I'd like to see how tough he is with no camera around," said Romain, who studies martial arts and has a brown belt. "If he touches her, there will be an act of self-defense. Fighting him would be like fighting a 12 year old."
Francis, however, refuses to back down and told Radar about Sunday's episode and Romain's comments: "Last night's episode of The Real Housewives of Miami and Watch What Happens Live speak for themselves. Joanna Krupa's out of control actions and vulgar racist rants proved to America who she really is. I wonder how PETA will react to Joanna's endorsement of leather and other animal by-products last night on Watch What Happens Live? "
Krupa recently appeared in a PETA ad.
She has a strong defender in Romain, who owns a popular nightclub in Miami's South Beach and paints Francis as someone who habitually picks on women and takes advantage of them.
"How is this guy free?" Romain asks, referring to Joe's Girls Gone Wild franchise and various scandals. "People like him take advantage of women. I feel bad for all the mothers of the girls he has had take their shirts off."
Article continues below advertisement
As for Joe's claim that he slept with Joanna: "He has this infatuation with Joanna and in a way it makes me laugh," Romain told Radar. "He needs his 15 minutes of attention."
It's clear the drama from the Miami Housewives franchise is spilling over into real life, with last night's episode so compelling that even Lady Gaga tweeted about it!
RELATED STORIES:
Real Housewives Of Miami: Adriana De Moura Punches Joanna Krupa!