Real Housewives Of Miami: Adriana De Moura Punches Joanna Krupa!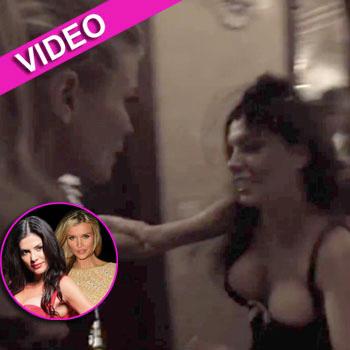 The Real Housewives of Miami took drama to a new level on Sunday night when Adriana De Moura punched castmate Joanna Krupa in the face, and RadarOnline.com has the blow-by-blow.
During a lingerie party to benefit breast cancer at Lisa Hochstein's house, Adriana gets into a heated argument with Karent Sierra about an article written that quotes Karent saying negative things about the other housewives, but when Joanna steps in, things get out of control.
Article continues below advertisement
But Adriana claims it was Joanna made the first move by grabbing her shoulder and told Joe when he asked what happened, "She physically attacked me because she's drunk as usual."
"There was hair and nails flying everywhere...and a broom," Lisa said of the fight.
It wasn't only the women fighting -- two gay men at the party got into a verbal bitch fight when Beau Beasley became overly confrontational with Lea Black and when James Davis jumped in to diffuse the situation, Beau threw a drink in James' face so James caused a splash by pushing Beau into the pool.