Joe Francis Boasts 'I Slept With Sisters Marta And Joanna' On Real Housewives Of Miami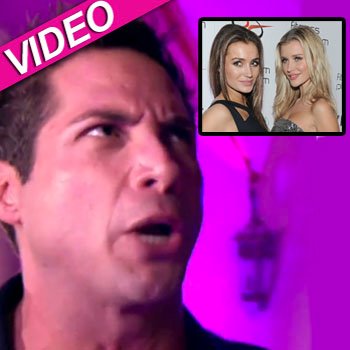 The man behind Girls Gone Wild sends one girl absolutely crazy when he appears on an upcoming episode of The Real Housewives of Miami.
RadarOnline.com has a sneak peek of the new episode and the moment Joe Francis boasts about sleeping with model Joanna Krupa AND her sister Marta.
The entrepreneur drops the bombshell allegation at a lingerie party. The 39-year-old chats to some cast members when Joanna's name crops up.
Article continues below advertisement
PHOTO: Joanna Krupa Wears No Bra In See-Through Top
Francis says: "How funny is it? I put Joanna on television for the first time… When she moved from Chicago with her sister Marta...I met her through a mutual friend like her first week in LA."
That's when he claims to have romanced the 33-year-old model and her younger sister.
"Actually I dated both sisters too – Marta and Joanna," he says. When asked if he slept with them Francis says: "Yes…Go ask Marta. It's true."
Housewife and dentist Dr. Karent Sierra decides to confront Joanna about the rumor and, taking Francis by the hand, gets them to discuss it face-to-face.
But Joanna is not pleased, as in another clip she is seen shouting at the controversial Girls Gone Wild founder, saying: "You're a f***ing sicko."
A defiant Francis goes even further by saying: "And you gave me a bleep in a movie theater Joanna!"
When the blonde talks to her sister about the rumor she gets another shock.
MORE ON:
Real Housewives Of Miami
Article continues below advertisement
"Joe Francis is telling people we both slept with him," Joanna tells Marta. "How embarrassing."
But when Marta starts giggling and hiding her face Joanna says: "You slept with him?" Her sister says: "I don't want to talk about it."
As we previously reported, Joanna berated Teresa Giudice in an exclusive interview with RadarOnline.com. Speaking of the Real Housewives of New Jersey star who is embroiled in a bitter feud with her brother and her sister-in-law, she said: "There's no reason to disrespect your family. I can't even imagine doing that."