Exclusive
Joe Giudice Cheated On Teresa In Atlantic City, Claims Eyewitness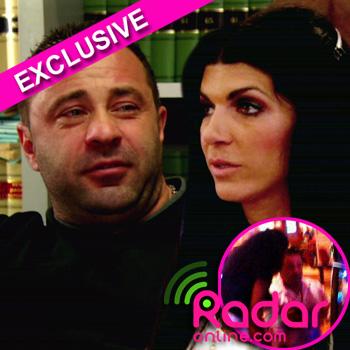 By Amber Goodhand - RadarOnline.com News Editor
Cheating allegations have haunted Joe Giudice and his wife Teresa the whole season of The Real Housewives of New Jersey, and now an eyewitness has provided RadarOnline.com with exclusive photos and first-hand account of one of Joe's indiscretions.
Georgia resident Rosie Jones was in Atlantic City on September 23 at Harrah's Resort when she spotted Joe in the early morning hours at the bar with a woman who he eventually left in a cab with.
Article continues below advertisement
"I walked into Harrah's bar around five in the morning and saw Joe Giudice conversing with a young girl," Rosie exclusively told RadarOnline.com.
"I know it wasn't Teresa. She looked more like a working girl, although I can't prove it. They walked out of the bar together to a more secluded area in the casino and played the slot machines for a bit."
According to Teresa's Twitter page, while Joe was in Atlantic City getting touchy-feely with the unidentified young lady, she was in Charlotte, North Carolina appearing as a celebrity guest at the Southern Women's Show.
"Joe's friend came over and she sat on his lap and then Joe started rubbing her face and stroking her hair," Rosie explained.
"Joe had his arm around the girl and as they walked off to grab a cab together I heard his friend say something like, 'Life is great.'"
During the Real Housewives of New Jersey reunion Part 2, cast member Jacqueline Laurita also called Joe out for cheating right to his face.
"And now that you're going there, you told me your husband cheated on you several times," Jacqueline said to Teresa.
Article continues below advertisement