Exclusive
Ramona Singer Says Anderson Cooper 'Was Right' For Calling Teresa Giudice Out For Bullying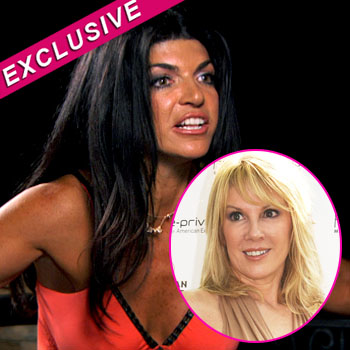 Article continues below advertisement
"I actually watched the show, he said 'Teresa you resorted to telling Caroline that she has three rolls of fat or something like that or that she needs a face lift.' Teresa was commenting and he said 'What's wrong with you?' and she said 'Well did you hear what she said to me?' And he said 'Well what are you 12 years old?'"
Ramona, who has had her own fair share of names hurled at her from her co-stars, said she's on Anderson's side.
"And you know what? He was right!" She asserts.
Ramona went on to dish about her latest venture, the new Ramona Red: Sangiovese Merlot Blend, and says that like most things in life, she throws convention out the window when it comes to her wine choices.
"Sometimes believe it or not I'll have fish and I'll have a red wine, sometimes I have steak with white wine. The new red is deeper in flavor. Both wines I created are easy drinking wine meant to be had with food or alone."
Article continues below advertisement
The "mini-Super-Tuscan" fusion with the addition of Merlot and aromatic oak to a Sangiovese base has a hint of sweetness on the first taste, but it gives way to clear acidity that provides balance she says.
And, while things can get heated while filming RHONY, Ramona says she has a simple reason for only drinking white wine on TV.
"I tend to get very expressive and move my hands around a lot and I would end up probably getting red wine on somebody's dress. I tend to get those milk lips; I tend to take large sips which stain my upper lip and it looks like I have lipstick up there or something."