Ramona Singer Grovels & Begs Forgiveness From Heather Thomson, 'I Want To Be Your Friend'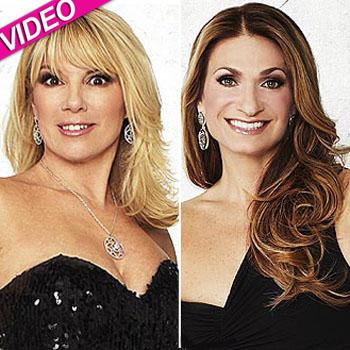 Article continues below advertisement
While both were sipping glasses of white wine, Ramona tries to start a conversation by saying: "Is it hot up here or is it my imagination?"
Heather replies sarcastically: "Oh you care about people? Because you came to support my event last night right?
"You didn't talk through the performance? You didn't talk through my fashion show?"
But Ramona is quick to assure her that she and Sonja had been talking about Sonja's problem with the photographer and that in the future she wouldn't get involved in Sonja's problems.
Watch the video on RadarOnline.com
"You know what, you're one hundred percent right," she says. "And I'm going to tell Sonja don't get me involved.
"Do your own thing because when I get involved fireworks happen. And you're right, Sonja will say one thing to me, get me involved and then she back peddles and says 'no everything is fine'."
Ramona finishes by imploring for Heather's forgiveness and giving her a kiss on the cheek.
Article continues below advertisement