Real Housewife Ramona Singer Gets Butt Sculpting Treatment, See It Here!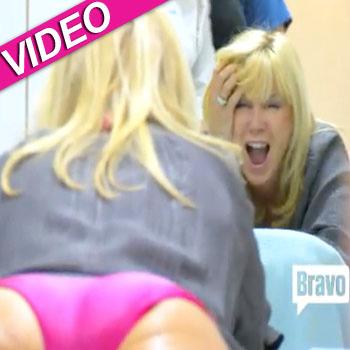 The Real Housewives of New York are always looking for ways to roll back the clock and motor-mouth Ramona Singer decided it was time to tighten up her rear end with a sculpting treatment that was captured with painfully funny consequences.
Her friend Sonja Morgan joined her for the beauty visit and tells Ramona that her butt looks "great" as she peeled off her tights to reveal her taut behind. But the Pinot Grigio-swilling socialite responded that she wants to "look better than great."
Article continues below advertisement
"That's a good butt. No wonder you've been married for so long," Sonja said while watching Ramona lying on the table half naked adding that it was making her "horny" because it was "like a porno show."
At 55-years-old is in amazing shape thanks in part to her years as a bodybuilder.
After getting her butt massaged, Ramona becomes petrified when the aesthetician goes to inject her with something that is supposed to help firm her derriere.
She has second thoughts, saying she doesn't "want a needle in my ass."
But as vibrating pads are placed on Ramona's butt, the technician promises that as well as sculpting, the side effect is that "she will have an orgasm" which sends the reality star into a fit of giggles.
You can catch a sneak peek right here, and watch the entire The Real Housewives of New York episode on Bravo, August 20 at 9/8c.