Exclusive
Brandi Glanville & Taylor Armstrong Nearly Come To Blows!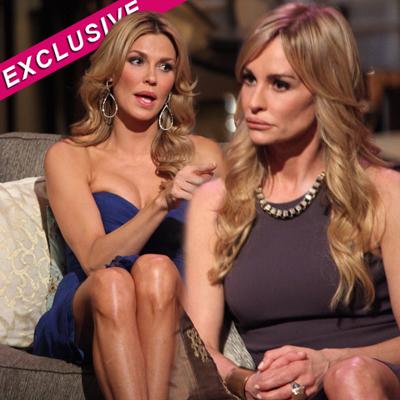 RadarOnline.com Assistant Managing Editor
The drama is heating up quickly on the upcoming season of The Real Housewives of Beverly Hills, as Brandi Glanville and Taylor Armstrong face off, almost getting into a physical fight during filming this week, RadarOnline.com is exclusively reporting.
As we previously reported, Eddie Cibrian's ex-wife and Armstrong are becoming notorious during filming of the third season for their partying whenever the cameras are rolling. Taylor had a catastrophic meltdown recently during a trip to Ojai, California, which left her co-stars fearing for her future if she doesn't seek treatment for her drinking.
Article continues below advertisement
"Taylor and Brandi almost came to blows earlier this week during filming," a show insider tells RadarOnline.com. "The ladies were at a party and once again, both Taylor and Brandi had been drinking. Brandi has criticized Taylor for writing a book so quickly after Russell committed suicide. Brandi accused Taylor of doing anything to make money and Taylor practically lunged at her. The two had to be physically separated and this is the second time this has happened. When the ladies were in Ojai, Taylor and Brandi got into a very heated argument and got into each other's faces. It's only a matter of time before these two get into a physical fight."
Taylor's drinking problem has the fellow cast members concerned for her well-being. The troubled housewife got extremely intoxicated at Kyle Richards' daughter's fourth birthday party several weeks ago, and Taylor's own young daughter, Kennedy was there to witness it.
"Taylor got wasted at Portia's birthday party and Kennedy was there, so if Taylor thinks her daughter doesn't know what is going on she truly is in denial. No, Taylor doesn't ever drink and drive and she did have a driver that night, but that doesn't mean there is any less cause for concern," the source says.