Sonja Morgan Stuck In The Middle Of Ramona Singer And Heather Thomson's Catfight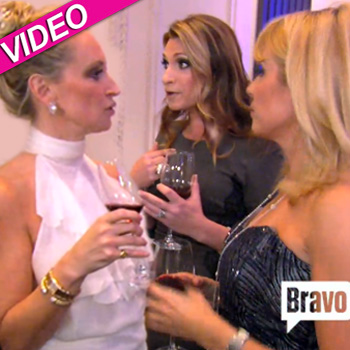 The Real Housewives of New York City women never play nice and the tension between Ramona Singer and Heather Thompson comes to boiling point in next week's episode and RadarOnline.com has a sneak peek of the drama.
During a holiday bash, Ramona sits Heather down to get to the bottom of their tension as only the Pinot Grigio-swilling socialite can.
"So something has been on my mind," the blonde businesswoman starts off. "Sonja asked you point blank, 'I'd like Ramona to be at the shoot' and you said, 'No, I don't want her there.'"
Article continues below advertisement
Both women have been vying to be a part of Sonja's new toaster oven business and the photoshoot in question was to help promote the company.
"You knew I wanted to be there and you should have picked up the phone and communicated with me and you didn't do that. To me that wasn't right. If she said she wanted me there," Ramona says.
Heather hits back saying that Sonja didn't ask her to make sure Ramona was in attendance and the two women get into a verbal back and forth before strutting over to Sonja to be the adjudicator.
"You said to me that Heather didn't want me at the shoot. Is that true or not?" Ramona shouts which causes Sonja to stutter uncomfortably being caught in the middle.
When Heather concedes that she did agree Ramona should not be there it sends the fiery blonde into a tornado spin and she screams at her, "You just lied to me!"
Sonja and Heather then go at it in the middle of the bash with Heather later calling Sonja "wishy-washy."
Article continues below advertisement