NYC's Most Expensive Penthouse Has Its $100 Million View Blocked: Take A Peek Inside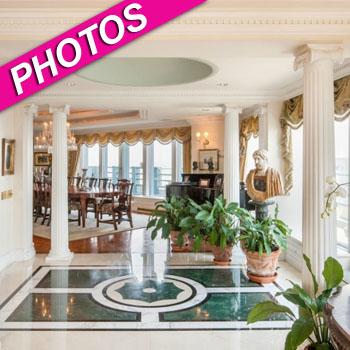 By Debbie Emery - RadarOnline.com Reporter
The sky is the limit for Manhattan's most expensive penthouse, but its $100 million value may already be in peril by the apartment building that last held the title of NYC's highest price tag.
Real estate developers listing the 8,000-square-foot apartment at CitySpire on West 56th street, which the owner says has the highest terraces in New York City, describe it as a "work of art," reported the New York Times.
Article continues below advertisement
Taking up the entire top floor of a high-rise with 3,000 square feet of wraparound terrace on three floors and 135 windows, the opulent pad should offer the best place to soak in the lights of the Big Apple.
However the city's other high-profile building, One57 - although still under construction at 157 West 57th Street, will ultimately tower 90 floors up into the air – and is already partly blocking CitySpire's still–spectacular view of Central Park.
Steven Klar, president of the Klar Organization, bought the six bedroom, nine bathroom apartment in 1993 as raw space for about $4.5 million, after banks took back the 814-foot tower from its original developer, Ian Bruce Eichner. The unit is spread out over three full floors, Nos. 73 to 75, with a guest suite on the 72nd floor.
Despite the blot on the landscape, the fabulous octagonal-shaped penthouse boasts a media room, a 20-person dining room, a formal gallery, a conference room and a master suite that comprises of the entire top floor of the 75-floor high rise. It is lavishly decorated with towering pillars, marble floors, crystal chandeliers, and satin drapes flowing from the numerous windows.
Article continues below advertisement