Sonja Morgan Sets Her Sights On Frankel's Empire 'I'll Be Bigger Than Bethenny!'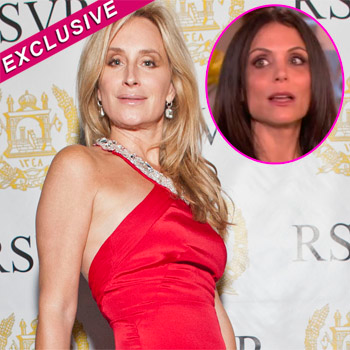 Sonja Morgan has her sights set on building a business and media empire to rival that of her ex-costar Bethenny Frankel!
The Real Housewife of New York City, who runs a catering company, sells toaster ovens and has a cookbook in the works, is vowing to beat the multi-millionaire at her own game, and RadarOnline.com has all the details.
"Bethenny used to tell me that my bathroom was bigger than her whole apartment, but now she's built an empire," Sonja tells the new issue of Star magazine.
Article continues below advertisement
"I want my own kitschy daytime show where I can talk about everything from stain removers to Botox. I'll be bigger than Bethenny, because I'm hungrier than her now."
Sonja goes on to explain that she has given up sex, partly to concentrate on her career. "I had to tame the cougar in me like a wild circus animal in order to get back to my inner kitten," she says.
The single mom to an 11-year-old daughter by John Adams Morgan adds: "I'm focusing on my business ventures, and I feel independent and secure."
She also explains that when she does flirt, there is no end game in mind. "I flirt with the guy I'm not attracted to, to make him feel comfortable," she says. "But if I'm attracted to a guy I'm very prim, proper and quiet"
And when asked if she's open to finding love, she shares: "The legs are not open! That's when you get into trouble. The heart isn't open because I've been betrayed so many times. There are men who want to date me just to be on the show and I can't take any more hurt."