Exclusive
RHONY Drama: Ramona Calls Sonja An Airhead, Says She Has 'Diarrhea Of The Mouth!'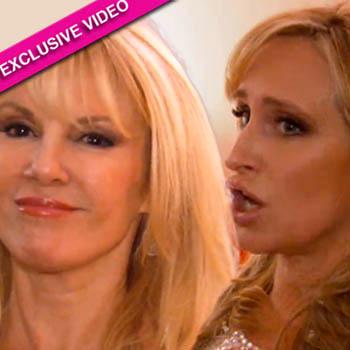 By Amber Goodhand - RadarOnline.com News Editor
Harsh words for a best friend.
Real Housewives of New York star Ramona Singer says cast member Sonja Morgan is like a sister to her, but goes on to call her an "airhead" and says has "diarrhea of the mouth" -- and only RadarOnline.com has your exclusive sneak peek.
Only three episodes into the new season and the drama is already heating up when Ramona gets miffed because she wasn't invited to new cast member Heather Thomson's London trip, and it's Sonja that gets the brunt of her wrath.
Article continues below advertisement
"Sonja's my really good friend. I love her like a sister," Ramona said.
"But sometimes I feel when things happen to me, when other women are doing things to me, instead of picking a side she just tries to ride the fence or even worse take the other side."
Sonja defended herself saying she felt blindsided by Ramona and explained, "Ramona's used to getting her own way all the time. She thinks she can just snap her fingers and be like, 'You're not going on this trip,' and sometimes I have to snap her into reality and say, you know what, I'm a grownup. I make my own decisions!"
"Sonja's not supporting me. She's saying I'm wrong with my feelings. She's not, like, acknowledging my feelings. Sonja's an airhead, ok? I don't know where her head's at," Ramona says, causing a rift in her friendship with Sonja for the first time.
"And then she goes on and on and on and doesn't make sense. She has, like, diarrhea of the mouth!"
Make sure you tune into The Real Housewives of New York on Monday at 9/8c on Bravo to catch all the drama.