They're Back! Countess LuAnn De Lesseps And Ramona Singer Get Into Catfight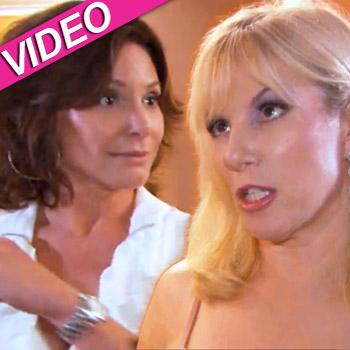 Article continues below advertisement
"Ramona you know you crossed the line with me… about my relationship with the kids."
Ramona had accused LuAnn of "being more like a weekend mom" and not spending much time with her children because the Countess split her time between the Big Apple where her boyfriend Jacques lives and her home in the Hamptons which is the base for her two teens; Victoria and Noel.
And during the season four reunion show, Ramona again went after LuAnn saying that her daughter transferred schools "four times in four years" which caused a showdown.
"LuAnn you went after me. You're passive aggressive," Ramona said in her defense at the recent bash. "Don't start with me. I'll go right back at you."
They then accuse each other of going too far in their spats before their argument is broken up by fellow Housewife Sonja Morgan.
"When LuAnn wants to 'talk' to you, she just wants to 'scold' you," Ramona complained to her husband Mario saying that her heart was "beating out of her chest."
Article continues below advertisement
"LuAnn always wants me to say I'm sorry, as long as I say I'm sorry everything is good. But why do I have to say I'm sorry for something that is really true. LuAnn is not going to be happy until I give her my blood," Ramona later lamented in her confessional.
The 90 minute drama-filled season premiere also introduces the three new housewives; Heather Thomson, Carole Radziwill, and Aviva Drescher.
The Real Housewives of New York City season five premieres on June 4.