New York Dramarama! LuAnn De Lesseps Accuses Ramona Singer Of Blackmail!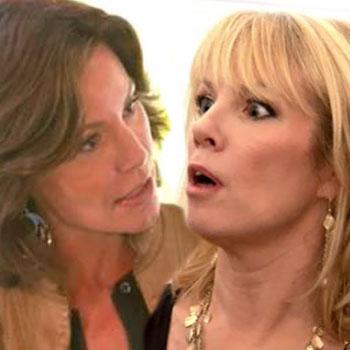 Article continues below advertisement
The new girls think Ramona should just apologize so everyone can move on, but they don't quite understand yet though that in Real Housewives world, by admitting you were wrong or saying you're sorry even if you don't really mean it, shows weakness and then you're likely to be pounced on that much more!
LuAnn doesn't get want she wants out of Ramona, but instead she does get a call from someone who, allegedly, threatened to tell "the world" something about LuAnn's children. It's not clear what the blackmail offense could be, but LuAnn immediately believes Ramona is behind the sinister threat.
Aside from clashing with Heather and her former friend LuAnn, Ramona doesn't do much in the premiere beside yelling at her maid for not knowing how to work a wine opener.
Aviva didn't provide much drama this time around, but it's coming. In upcoming scenes she calls Sonja and Ramona "white trash," and apparently her ex-husband Harry Dublin may or may not have slept with Sonja and LuAnn.
The new addition did give some comic relief however, when she went for a pedicure and took off her prosthetic leg!