The Real Housewives Of New York: Meet The New Ladies!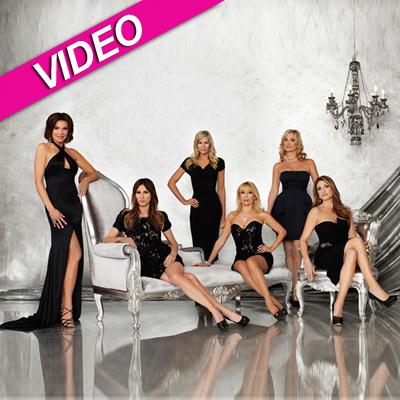 Start spreading the news – there's several new 'Housewives' taking a bite out of The Big Apple!
The fifth season of The Real Housewives of New York City premiered on Bravo Monday night with three new ladies joining the cast, following last year's shocking departures of Jill Zarin, Alex McCord, Kelly Bensimon, and Cindy Barshop.
Sonja Morgan, LuAnn de Lesseps and Ramona Singer are all back for a new season of rich girl hissy fits and catfights, along with the three newbies, including mother of four Aviva Drescher, whose signature line is: "Never underestimate a woman born and raised in New York City."
Article continues below advertisement
The charming and poised Drescher proves to be extremely straightforward, explaining why she left her hard partying ex-husband and revealing that she her foot amputated in a childhood accident when she was 6-years-old.
Also joining the cast is widow and bestselling author Carole Radziwill, whose signature line is: "I may be a princess, but I'm definitely not a drama queen."
Like Drescher, Carole also has heartbreak in her past -- her husband died of cancer just five years into their marriage, which inspired her to write a book about her loss. (It became a New York Times best seller.) She's single and ready to mingle, as evident by the hot pants she likes to wear around Manhattan. Carole interviews celebrities for a living and has ties to the Kennedy family. (Her late husband was cousins with John F. Kennedy, Jr. and Caroline Kennedy.)
Watch the video on RadarOnline.com
Next up is resident mean girl and shapewear siren Heather Thomson, who signature line is: "My success is built on making women look and feel their best. Holla!"
Although she name drops a lot because of her ties to celebrity fashion lines (J.Lo, P. Diddy, and Beyonce, etc.) she's a self-made businesswoman and her son has a rare liver disease.
As for former 'Housewife' Jill Zarin, she doesn't seem too down about being ousted from the show.
Article continues below advertisement
Monday night, she posted a lengthy entry on her blog, talking about how she spent her evening as season five premiered.
"Tonight was quite surreal for us. Bobby and I were in the hamptons and this morning made the decision to drive back to the city and stop by 3…yes 3! housewife parties in NYC tonight. First stop was Luann…she looked beautiful as usual. I got to meet Carole for the first time, Heather for the second and some old friends. Even Brad..yes Brad Boles was there..with Jersey ( Luann's fab stylist from the music video). I felt like I graduated high school and am in college now ..going back to the high school to visit my old friends and some transfer students. Does that make any sense."
To read Jill's entire blog, click here.
The Real Housewives of New York airs Monday nights at 9/8c on Bravo.