Exclusive
Knock Off Alert! Bethenny Frankel's Designer Purses Are Fake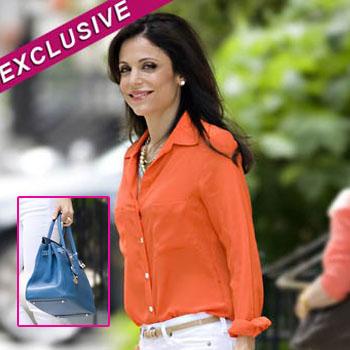 Bethenny Frankel's breast implants aren't the only things that are fake, according to an exclusive story in the new issue of Star magazine.
The former Real Housewives of New York star is rarely spotted without a designer handbag tightly clutched by her side, but like the drama in most reality shows, they are far from authentic, a source revealed to Star.
"Bethenny's first Birkin bag worn on Real Housewives was bought off eBay," said the insider, and when she's not looking for cheap deals on the Internet, the 41-year-old talk show host has a woman bring fake Chanel, Gucci and Hermès handbags to her home.
Article continues below advertisement
"The bags are the highest-quality knockoffs from China; it's really tough to tell the difference," revealed the source.
With the real deals costing from $5,000 to up to $50,000, the Bethenny Ever After star's knock offs aren't exactly cheap either, ranging from $750 to $1,500.
While she keeps her cheap shopping deals firmly under wraps, Frankel opened up about her plastic surgery earlier this month on an episode of Bethenny, revealing why she went under the knife to get size D implants and that she has subsequently had them removed.