Perfect For A Little Reality Princess! Bethenny Frankel Shows Off Baby Bryn's Pink Palace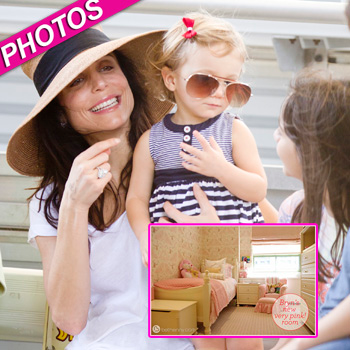 Suri Cruise is certainly spoiled growing up in an A-list family, but she's not the only celebutot who is living in the lap of luxury.
She may not be the Princess of Park Avenue, but Bethenny Frankel's daughter is the reigning tot of Tribeca! The reality star's little girl, Bryn Hoppy, recently had her bedroom renovated into a pink palace – and RadarOnline.com has the photos of her dreamy suite.
Article continues below advertisement
Frankel, who plopped down $5 million on the 3,000 square foot Tribeca apartment earlier this year, shared photos and details about her 2-year-old's new digs on her blog this week.
"As you guys saw on Bethenny Ever After, we spent so much time picking the design and furniture for our new apartment," she blogged, revealing that they went with pink for Bryn's room because it is her favorite color. "I truly loved the process. Especially picking out furniture and decor for Bryn's room!
"Bryn loves all animals, especially monkeys. We've always heard 'no more monkeys jumping on the bed!' so we put them on the wall. This was one of the first things we picked out for her room."
She also dished that the pink elephant artwork hanging behind a lamp, was a gift from one of her fans.
"I am OCD," she also reveals. "I LOVE organization, and it's especially important in a child's room, where it is so easy to get messy."