Daddy Day! Tom & Suri Cruise Reunited In NYC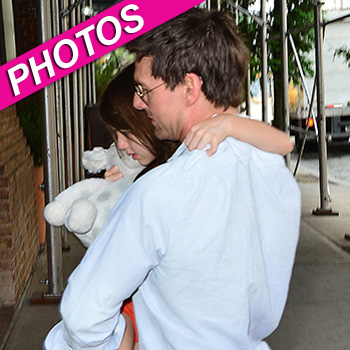 She's sugar, she's spice, she's everything nice and she's daddy's little girl!
Yes, Tom Cruise and daughter Suri were reunited in the Big Apple Tuesday, the first time they've been seen together since Tom and mom Katie Holmes split. Tom wore a blue shirt and jeans, holding his adorable daughter while paps furiously snapped away.
The daddy-daughter meeting comes less than three weeks after Katie filed papers to end her five-year marriage to Tom, who was in Iceland, and later California, shooting the film Oblivion.
Article continues below advertisement
The visit comes hours after the 6-year-old and Katie were passengers in a Mercedes that was sideswiped by a garbage truck in New York City. No one was hurt, thankfully.
In an agreement they hammered out, Tom, 50, granted Katie, 33, sole custody of Suri, 6. The estranged couple said in a joint statement last week that they're "committed to working together as parents to accomplishing what is in our daughter Suri's best interests.