Inside Suri Cruise's Swanky New $40k A Year School: Uniforms, Weekly Mass & Latin Classes!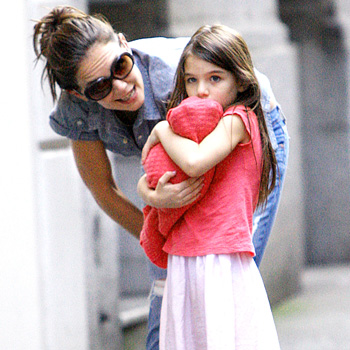 Sure, we're knee deep in summer, but Back-to-School sales are already cropping up, and Katie Holmes will be among the moms shopping for their kids this fall when daughter Suri attends class at Convent of the Sacred Heart, a Roman Catholic all-girls school located on New York's Upper East Side.
Here's a few fun facts about the school that will undoubtedly be a hot spot for New York photographers looking to snap one of the most celebrated of celebrity children.
Article continues below advertisement
One niche Suri already has down pat is the fame, as many well-known women are alumna of the academy. Among them: Lady Gaga, Nicky Hilton and Anderson Cooper's mother, Gloria Vanderbilt.
The school, which teaches pre-kindergarten through high school, is divided up into three tiers -- Lower School, Middle School and Upper School -- to accommodate the 690 kids who go there.
It costs $39,265 per year to attend the high-functioning institution, which is one of the area's most acclaimed, buoyed by a generous 7:1 ratio of students to teachers.
The school issues iPads to all eighth graders and up, and is furbished with SMARTboards and Apple TVs. There are two gyms, three science labs, a darkroom studio, rooftop playground and a state-of-the art athletic and wellness centre.
Students are required to attend Mass every Thursday and the curriculum is known to be very strict. Languages are a strong focus at the school with both French and Spanish being taught from kindergarten, Latin being introduced at grade seven and in upper school options are offered such as Arabic, Greek or Mandarin.
Article continues below advertisement
And, the little fashionista will have no choice but to dress exactly as all the other students, in a uniform of short-sleeved white blouse with a red trim and a Peter Pan collar, button down jumper and red pinafore.
It was less than three weeks ago Suri's mom famously filed papers to end her five-year marriage to Suri's dad, Tom Cruise.
Tom and Katie said in a joint statement last week that they're "committed to working together as parents to accomplishing what is in our daughter Suri's best interests." In an agreement they hammered out, the Rock of Ages star, 50, granted Katie, 33, sole custody of Suri, 6.